One vs Multiple bank accounts: What suits you best!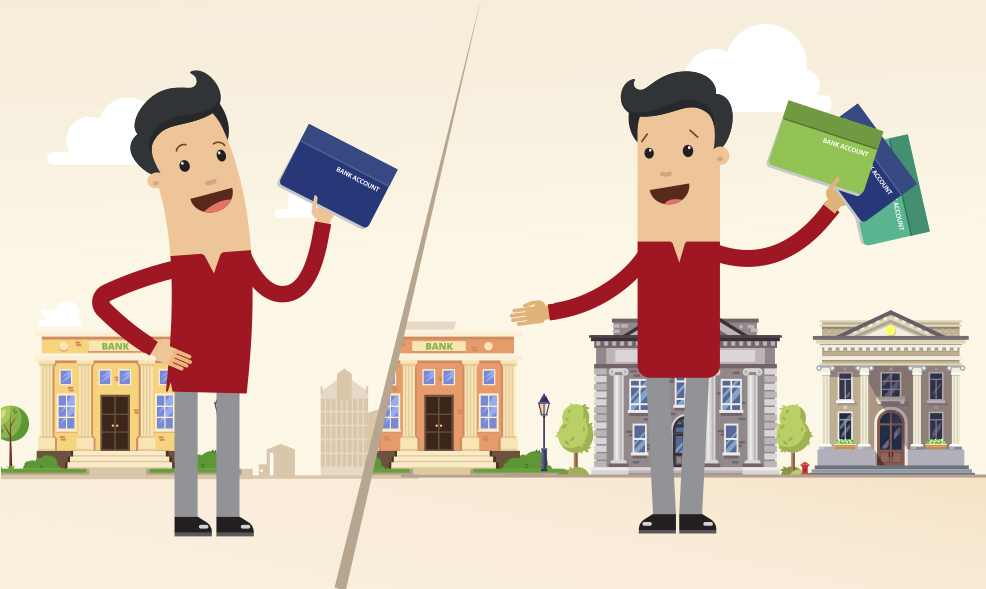 Some people keep just one bank account because they feel they would lose track of their finances if they have too many accounts. On the other hand, some people maintain multiple bank accounts for different sources of income or types of expenses to help them control over-spending. Then, there are people who simply open accounts with different banks to avail offers and discounts.
Below are three case studies that can help you decide how many bank accounts you should ideally have.
Before that, watch Why should you have a bank account? to understand the various benefits of having one.
Single bank account
Mrs Veena is a housewife who also became a mother recently. She mostly spends her time at home, where she also tutors a few kids in her colony to earn some money for herself. Her husband takes care of most of the family's expenses, but Mrs Veena still contributes to expenses like groceries, other household supplies, entertainment, etc. She keeps all her income in one savings account, from which she withdraws money using a debit card whenever needed. She doesn't have any loans to repay, so when she got pregnant, she started an RD for her daughter, to which she transfers a small sum every month. Besides these, she uses the rest of her income to buy things for herself and her loved ones.
She uses a note pad to track her expenses and always saves up for bigger purchases like gifts for friends and family or an upgrade at home.
Read What is a budget? Why is it so important? to know how budgeting can help you in many ways.
Two bank accounts
Gautam is young and single. He works at a private company that pays him well. His job requires him to live away from his family, so he pays about Rs 15,000 as rent. Since he lives alone, he pays for all his monthly expenses on his own - whether it is groceries or utility bills. He has an auto loan and also puts some money towards health insurance regularly. His company started a salary account for him where he receives his income and spends for daily expenses from. He uses the bank app to pay his bills, EMIs, and to send money to his parents.
He has set auto-debit on his salary account to transfer 10% of his income into a savings account every month. He uses this account to save money for his financial goals and emergencies. He also uses a budgeting app to keep track of his spends and savings.
Multiple bank accounts
Anjali is a young entrepreneur who runs a clothing business. She lives with her husband, two kids, and her in-laws. Anjali and her husband equally contribute to the family's expenses. She is currently repaying a business loan which she had taken to buy some equipment for her boutique. She is also repaying a home loan along with her husband. Besides their regular monthly expenses, she saves up for irregular expenses she may incur during festivals, vacations, birthdays, or anniversaries, etc.
She maintains a current account for her business, one joint savings account for her family's monthly expenses, and another savings account to save up for her goals. She also invests in mutual funds and a retirement fund.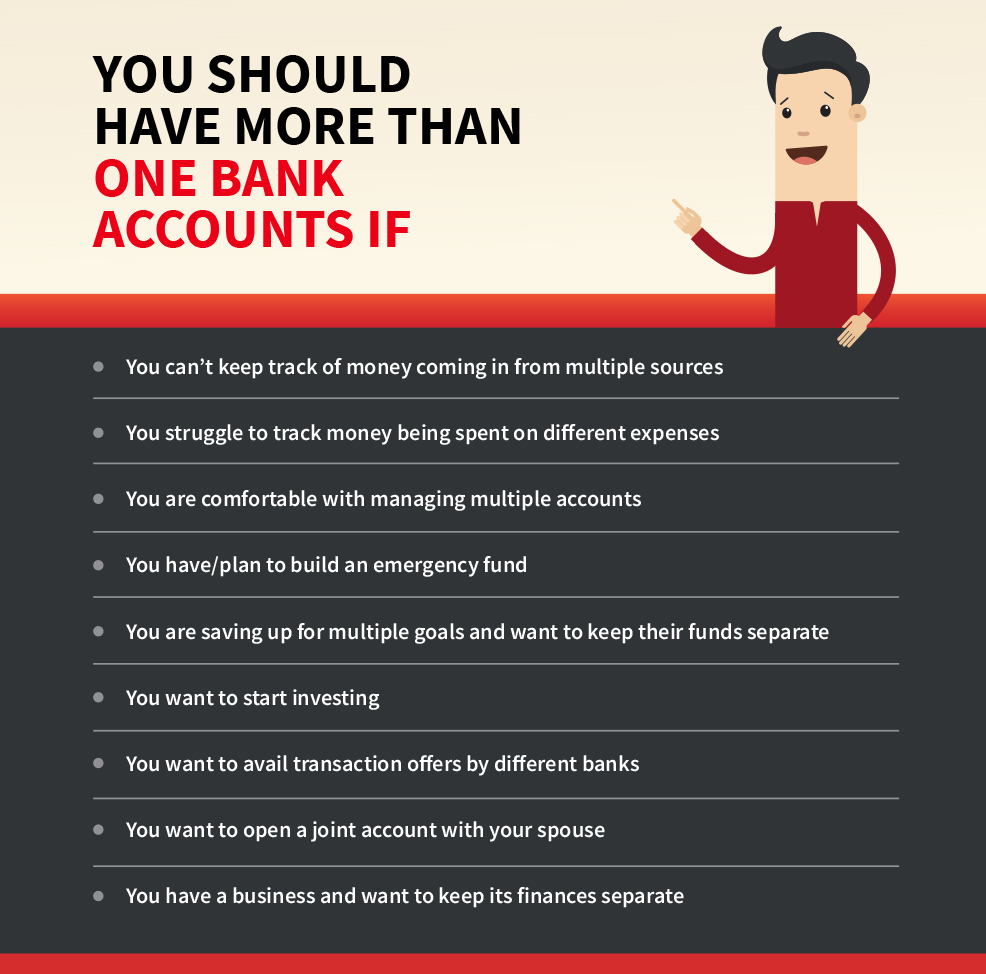 The number of bank accounts you should have totally depend on your finances and preferences. If you prefer using just two accounts – one for expenses and another for savings – that's perfectly fine as long as you can track your money properly. And if you are someone who thinks having multiple bank accounts to segregate different types of expenses will help you keep things more organised, you should totally go ahead with it.
Related Topics
|