Could your decision to take another loan make you regret later!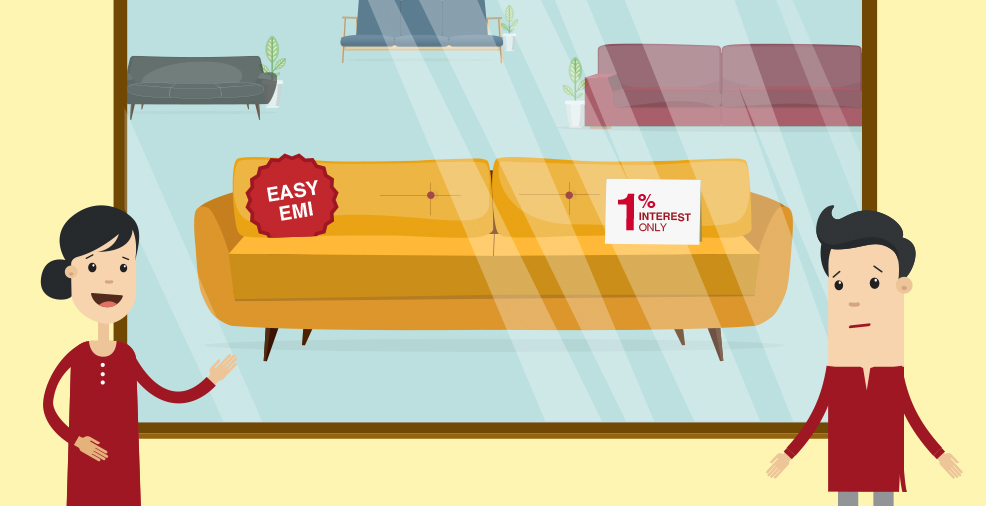 It had been eight months since Arvind and Nisha moved into their new house. The house is small, but it is airy and beautiful. Nisha is obsessed with the natural light that floods the rooms and highlights every corner of the house.
One day, as they were enjoying their morning tea, Nisha noticed an ad in the newspaper for a minimalist and modern sofa set, that too on easy instalments at just 1% interest per month. She decided to find out how Arvind felt about the same.
Nisha: Look, Arvind. What a beautiful sofa set. Don't you think it'll look perfect in our living room?
Arvind: Yes, it sure would. But tell me, is there something wrong with the one we have?
Nisha: I knew you would say that. We've had this one for so long. It's almost seven years old, and the design is so outdated. This is the problem with you, Arvind. You never buy things when they are at their best price. You know, I have an eye for great offers. We should buy things when there is a good deal available.
Arvind: We should buy things when we need them and can afford them, Nisha. Offers will come and go. It's not been long since we moved here, and we just got a new car. Taking loans for things just because a newer and more fashionable model has come out can disturb our monthly budget. So, let's think this purchase through and ask ourselves some questions before we make a decision.
Question the need for the purchase
Arvind: I understand that our sofa is old, but do we need a new one urgently or is it just a desire? And anyway, does it help us achieve anything?
Nisha: Oh well. I just wanted the house to look nicer before the next kitty party. New house, new sofa, new look, you know!
Question the need for a loan
Arvind: I'm sure you'd like a new sofa, Nisha. Do we really need to take a loan for the same? Is there another way to pay for it?
Do you think we have enough savings to be able to afford this sofa?
Nisha: We used most of our savings to pay the down payment on our new house and car, that's why the 1% loan will help!
Arvind: We're already paying two EMIs and credit card bills along with other monthly expenses. Plus, we need to pay our LIC premium in the next two months. We are also going on a road trip next month with your sister. Having to pay another EMI might get stressful.
Nisha: Hmm, you have a point here.
Arvind: Let's think, can we save up instead and buy it later? It can be one of our short-term goals. If we start saving now, we can buy a new sofa by Diwali.
Question the impact of a new loan
Arvind: Let's assume we decide to take the loan. We must ask ourselves if we would be able to continue paying the EMIs for the next 12 months. You know that my company is reducing its workforce. What if I'm one of those who stand to lose their job?
Besides that, taking another loan may push our Debt-to-Income ratio beyond healthy limits.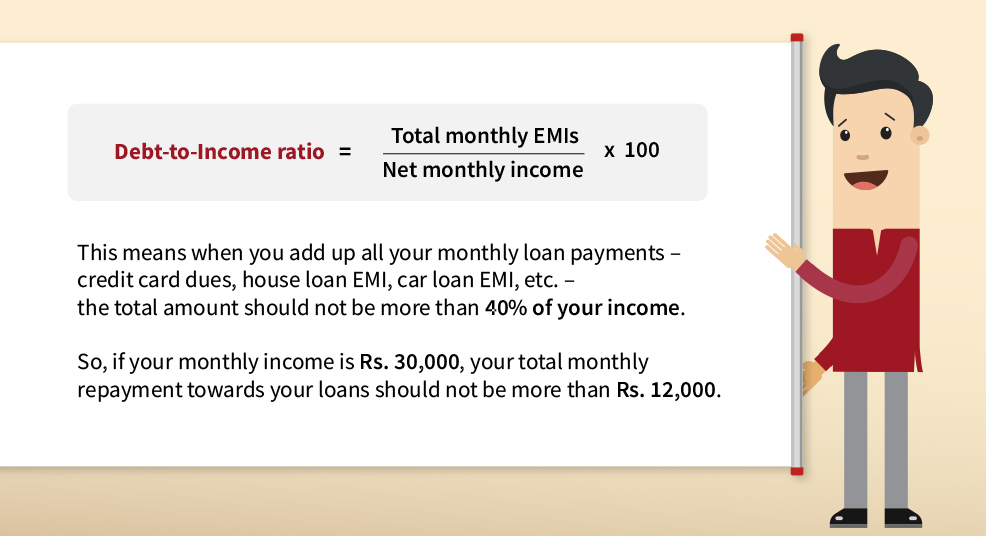 This can lower our credit score too. We've recently taken two big loans, so adding another loan could make it look as if we are excessively dependent on credit.
Question the loan terms and conditions
Arvind: Finally, how do we know that this offer at just 1% interest is not a marketing trick? To be sure, we must find out if there are any hidden charges that could make the loan more expensive than it seems.
Nisha: Hidden charges? Can that actually happen?
Arvind: Of course, it can. Tabhi toh kehta hun, we shouldn't make any financial decisions without assessing every aspect of it. Taking a loan is like the seeds you sow in our garden. The fruits the plants bear, should make our lives financially healthier and happier; and not stress us out or hurt us.
Nisha: That makes sense. You are so smart, Arvind.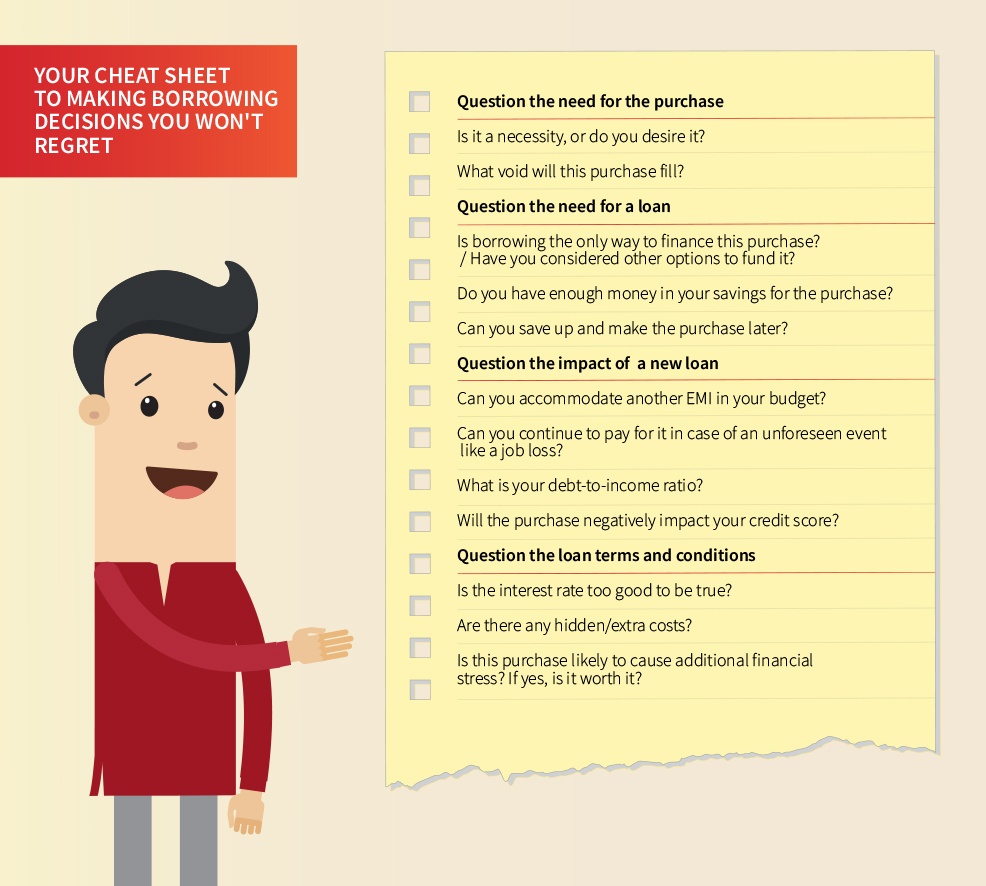 Financial commitments can build or break us. That's why we should always ask ourselves if a purchase is worth the financial stress that it may cause.
Related Topics
|