Things to Tell Your Child When They Apply for Their First Personal Loan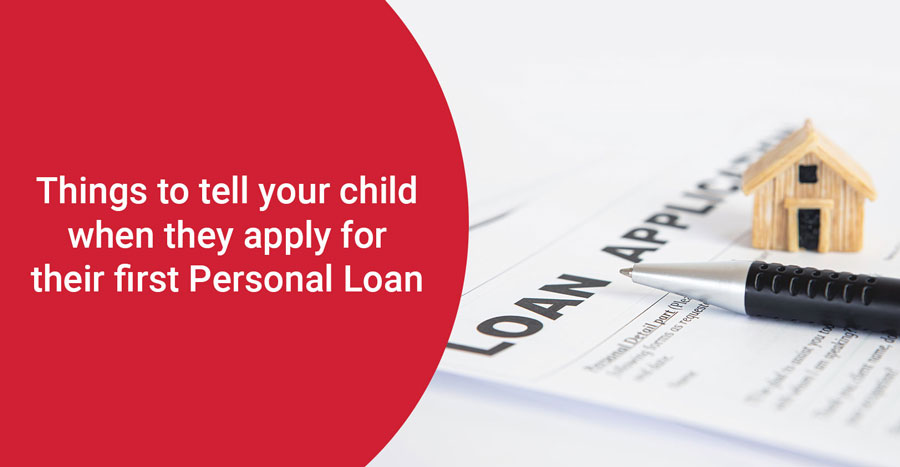 As your child ventures into adulthood, they will face various financial milestones, one of which may be applying for their first personal loan. Whether it's for further education, starting a business, or handling unexpected expenses, the process of securing a personal loan is a significant step in their financial journey.
As a parent, your guidance and support can play a crucial role in ensuring they make informed decisions. In this blog, we will discuss the important things to tell your child when they apply for their first personal loan.
Understand the Purpose
The first and foremost step in applying for a personal loan is understanding its purpose. Encourage your child to ask themselves why they need the loan and whether it's a financially responsible decision. Discuss alternatives like budgeting, saving, or seeking assistance from family and friends. Make sure they comprehend that a personal loan should ideally be used for significant, necessary expenses, not frivolous spending.
Explore Various Types of Loans
Personal loans come in different forms, including secured and unsecured loans, fixed and variable interest rates, and short-term or long-term options. Take the time to explain these distinctions and assist your child in choosing the loan type that aligns best with their financial needs and capacity.
Emphasize the Importance of Credit Scores
A good credit score is invaluable when applying for a personal loan. Explain to your child that responsible financial behavior, such as paying bills promptly and managing credit cards sensibly, positively impacts their credit score. A higher credit score can translate to more favorable loan terms, including lower interest rates and higher loan amounts.
Budgeting and Repayment Planning
Before your child applies for a personal loan, assist them in creating a realistic budget that accommodates loan repayments. Explain that having a clear repayment plan is vital to prevent financial strain and defaulting on the loan. Emphasize the significance of making timely payments to maintain a positive credit history.
Be Wary of Scams
Make your child aware of potential scams or predatory lending practices. Instruct them to be cautious of unsolicited loan offers, especially those that employ high-pressure sales tactics or have unreasonable terms. Encourage them to conduct thorough research and verify the legitimacy of lenders before sharing any personal information or signing agreements.
Scrutinize the Fine Print
Teach your child to meticulously read and comprehend the terms and conditions of the loan agreement. Explain that the fine print can contain essential information regarding fees, penalties, and the consequences of loan default. Encourage them to ask questions and seek clarification if anything appears unclear.
Conclusion
Applying for a personal loan is a significant financial step for anyone, especially for young adults embarking on their financial journey. By providing guidance, sharing knowledge, and offering your support, you can help your child make responsible choices and establish a solid financial foundation for their future. Remember that open communication and continuous financial education are essential to ensure your child's success in managing personal loans and other financial responsibilities.
Related Topics
|