Is your debt controlling you? Read this to know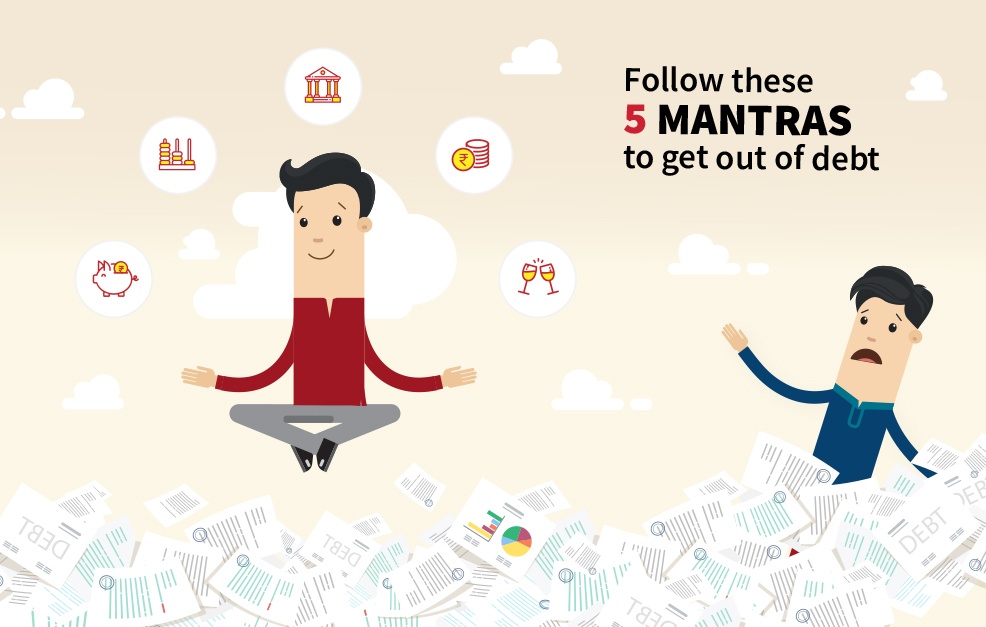 Ravi was a happy-go-lucky guy, but lately, he had not been himself. His work was still good, he finally even bought the car he wanted to, and despite multiple big and small debts, he was managing fine. But ever since his mother was diagnosed with cancer six months ago, his finances were completely shaken, and managing debt was becoming more difficult every day. Sometimes he just felt like running away from all that.
To clear his mind, Ravi decided to join his neighbour Arvind for a few sets of badminton. While playing, Arvind noticed that Ravi's mind was not in the game. "What's bothering you, dost?", asked Arvind concerned.
Ravi didn't feel like hiding his frustration anymore and told Arvind what he was going through. "You know I have a few loans and EMIs, but who doesn't, right? I was repaying them all on time. But ever since Maa has fallen sick, my plans have been completely disrupted. Medicines are so expensive and tests even more. I've already had to take a loan for her treatment, and now I don't know if I'm going to pay back my loans or meet daily expenses."
He was wondering how his parents' generation managed to give them a good life, education, and build savings with much lesser salaries.
Arvind crossed over to Ravi's side of the court and put a hand on his shoulder. "Breathe first. It's alright. Unlike our parents, we aren't disciplined spenders and tend to live beyond our means. We keep piling debt and if an emergency hits, we risk falling into a debt trap.
I can share a 5-mantra plan that will help you get your finances back on track. But it requires patience, dedication, will power, and honesty to make it work.
Mantra 1 – Find money in your expenses
First thing you should do is to make a list of all your monthly expenses. Make sure you add the smallest of expenses too. Then, identify the items that are additional expenses.
In short, you need to make a budget made of only the bare essentials and stick to it till your debts are cleared.
Mantra 2 – Find ways to make extra money
You need to increase your disposable income to catch up with the payments. You can either sell things you don't need or look for additional sources of income like giving tuition classes, freelancing, putting assets to work, etc.
Mantra 3 – Choose a systematic method to pay your debt
You need to prioritise the sequence in which your loans would be paid.
You can either start by clearing the smaller loans first and move towards paying off the bigger ones, also known as the Snowball method. Or start with the highest interest debts first so you can save on interest costs. This is called the Avalanche method.
Mantra 4 – Dig into your long-term savings to secure your today
Thinking about securing tomorrow, when your today is in bad shape may not be wise. When in debt, getting out of it should be your priority.
Dig into an old FD or mutual funds investment. If the interest earned on a savings is less than the interest paid on a loan, it makes sense to use it towards debt repayment.
If that is not enough, you can even ask your family for help, but make sure you treat it like any other loan.
Mantra 5 – Talk to your loan company for help
Finally, if you still need help, reach out to your lender. Depending on your past payment behaviour, they can either grant you some form of relief like payment holiday, penalty waiver, restructuring your loans, or debt consolidation.
If it isn't possible for you to repay the debt, you can opt for debt settlement but promise yourself that as soon as you are back on your feet you would clear the outstanding amount."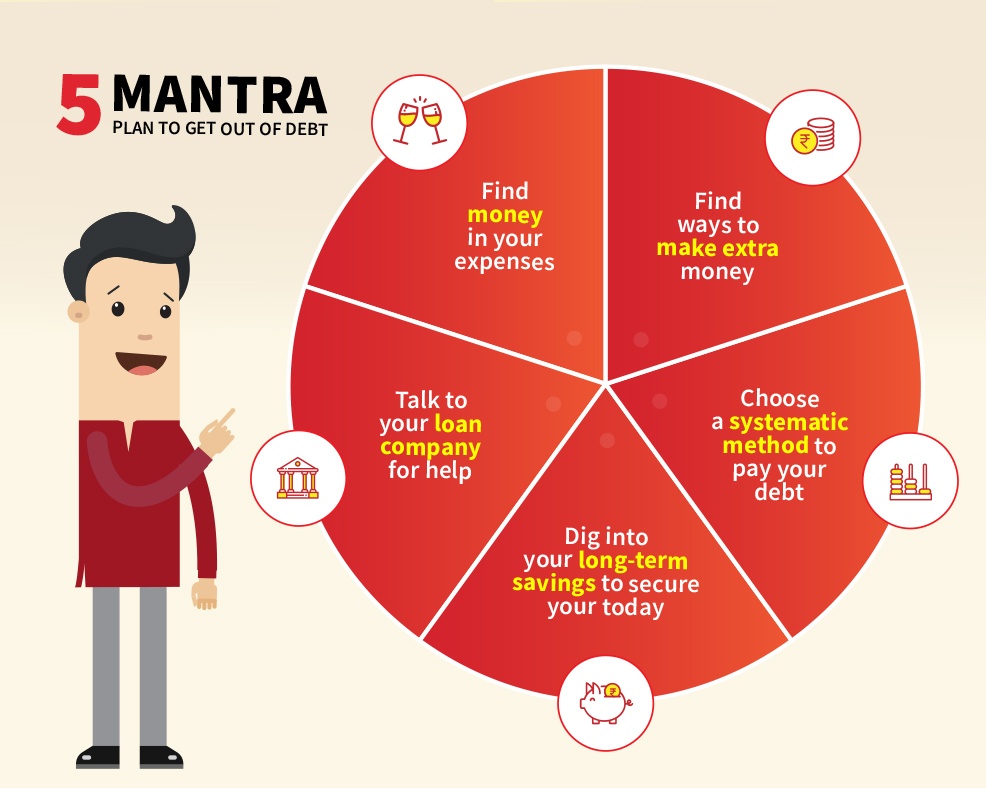 Ravi could finally see some light at the end of the tunnel after hearing this and decided to go ahead with the plan.
To know more about Ravi's journey of getting out of debt, read the next article in this series.
Related Topics
|