Mantra 1 - Find money in your expenses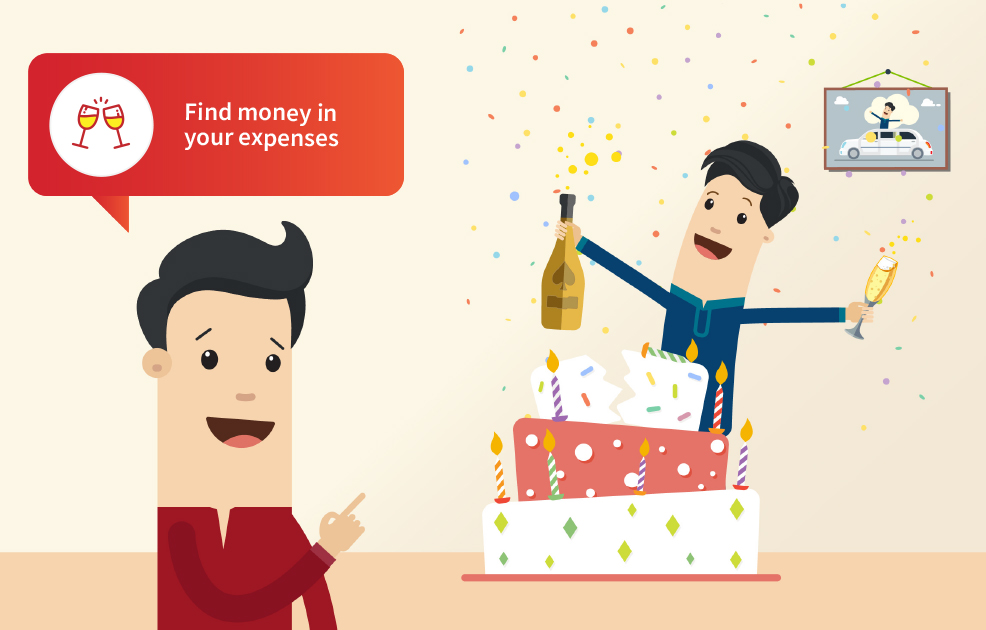 Ravi had been worried about his increasing debts, and Arvind suggested a 5-mantra plan to start his journey out of it. Arvind and Ravi met, just as they had decided earlier to discuss the first mantra, which is "Find money in your expenses".
Find out Ravi's full story in the previous article Is your debt controlling you? Read to know.
Ever since their chat in the badminton court, Ravi had been looking forward to meeting Arvind again. He wanted to get out of debt as soon as possible, and he knew if anybody could help him, it's Arvind. Like they had decided, they met again, and Arvind could clearly see the urgency on Ravi's face as he took long drags of a cigarette.
"Hey, Ravi, ready for an honest look at your expenses? The first thing you need to do is see if your expenses are exceeding your income. You have an MBA degree and work at a multinational company, so I'm sure you earn well. Toh vo kahan kharch hote hain?" Arvind asked curiously.
"I don't know yaar. Mai to kahin bhi extra spend nai karta. Just groceries, utilities, travelling wagairah. Lately, I've been paying for Maa's treatment and medicines as well." Ravi took a pause and continued "And sometimes I go out with my friends, but that's all. I think buying that car was a mistake."
"Hmm… Okay, tell me something, Ravi. How many cigarettes do you smoke in a day? And how many times do you go out for drinks in a week?"
"Around 6-7 cigarettes in a day. I've been really stressed ever since Maa's diagnosis. And I only go out on weekends" said Ravi while looking down at his badminton racquet.
"Ravi," said Arvind calmly, "this is adding to your problems. There are these small, often unnecessary expenses that go unnoticed but add up to a lot. For example, you are spending about Rs 3500 on just cigarettes in a month. You could pay a loan EMI with that money or more than the minimum payment on your credit card. And anyway it's bad for your health. Even something as small as grocery shopping with a list or eating before going to the mall can help you save money because you end up spending more when you go out on an empty stomach."
"I never thought about that", said Ravi surprised. "If I started meeting friends at home instead of always going out, I could save money there as well."
"Exactly. Remember how we would identify the problem areas before exams and then focus more on them? You need to do exactly that. Track your expenses, identify the areas where you can make small adjustments and put that money towards repaying your debt. " Arvind said.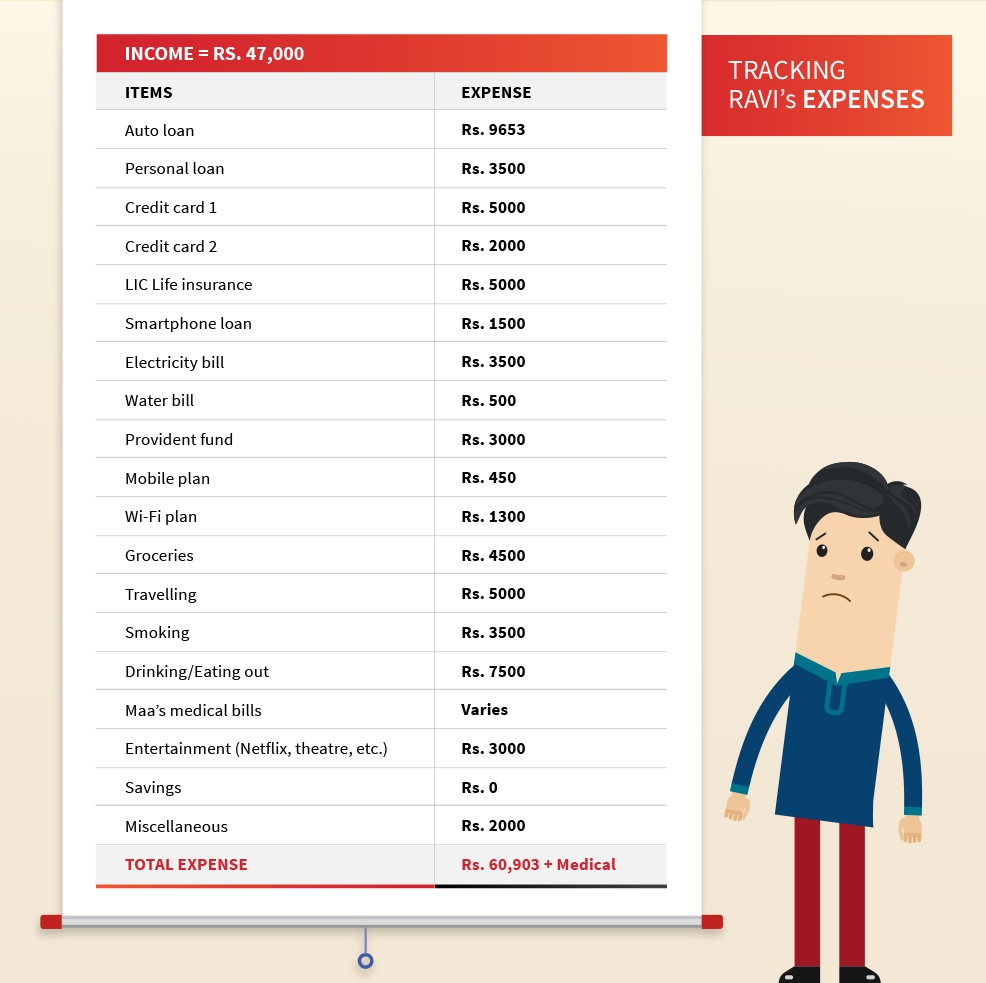 Arvind patted him on the back and continued, "Your expenses are clearly exceeding your income. I think you need to go on a 'spending fast' where you sacrifice leisure till your monetary situation is back in control. Let's look at how much money this can save".
"The best place to find money is in your expenses."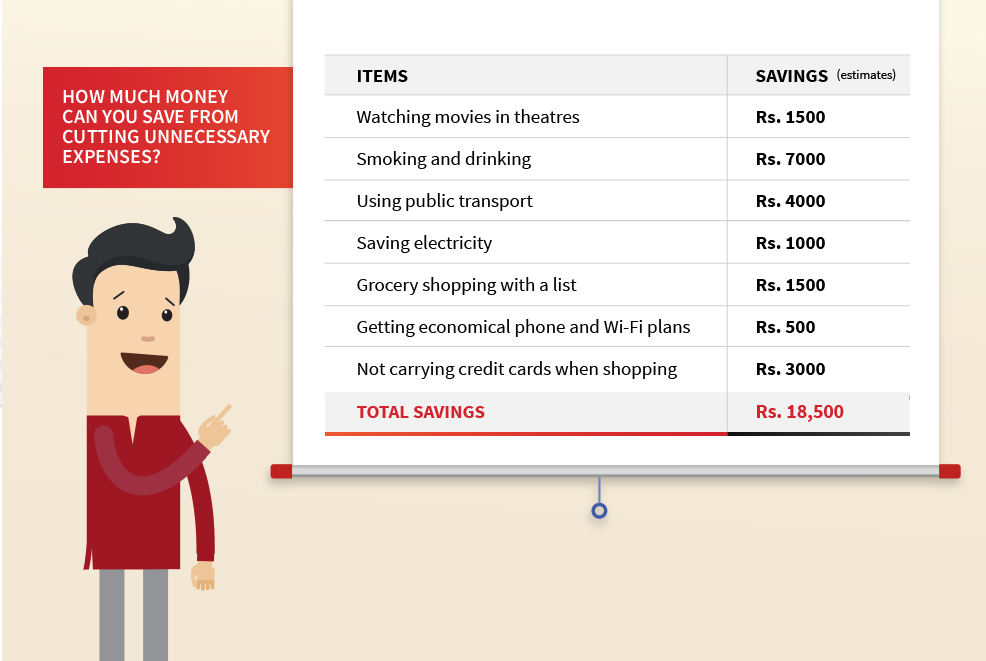 Ravi looked up at Arvind, "Okay, this is really eye-opening, but uskey baad kya?"
Arvind smiled and said, "Once you know what and what not to spend on, make a budget and commit to it.
"Where there is will, there is a way"
A common mistake most people make is not keeping savings and loan repayment at the top of their budget. Set aside your savings and EMI amounts at the beginning of each month. You can set automatic debits so that you don't miss any payments. This way you will learn to manage other expenses with whatever is left.
I am sharing a budget template with you that is easy to use.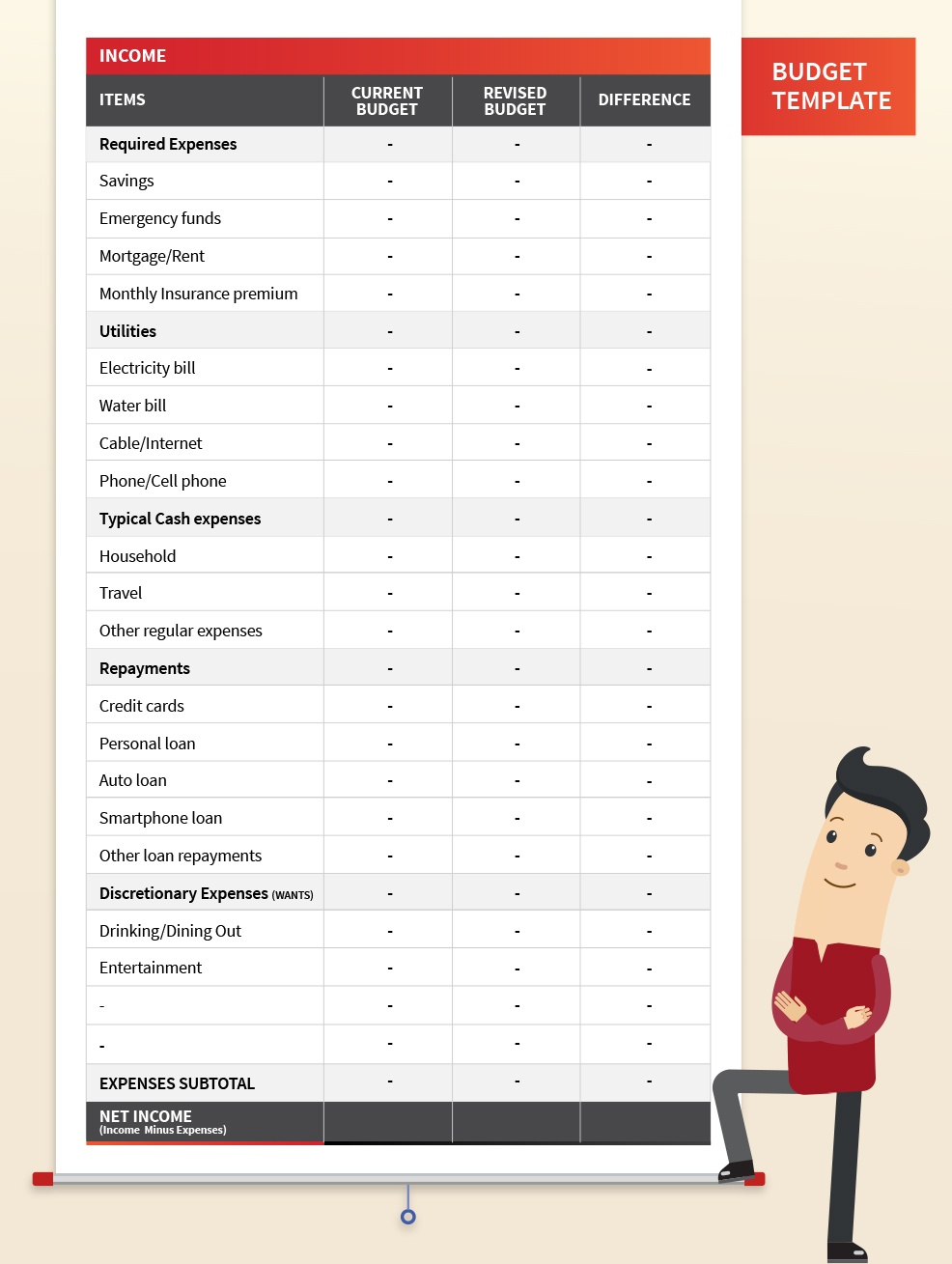 As Ravi starts thinking, Arvind tells him they will meet again when he has a budget ready and leaves him to work on it.
Find out what Arvind told Ravi next in Mantra 2 - Find ways to make extra money.
Related Topics
|