Do you know the difference between good and bad debts!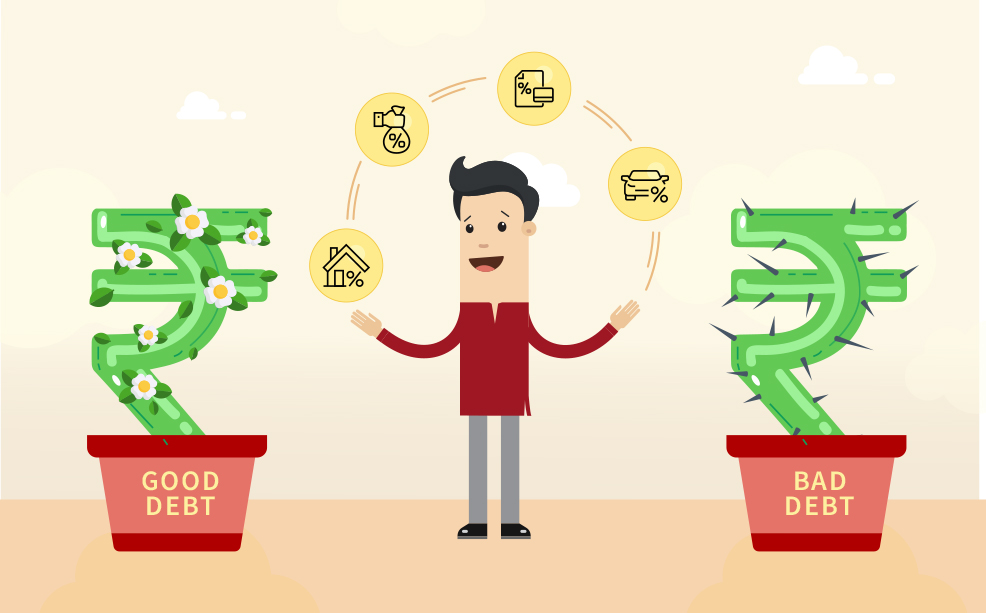 Riya, Samrat, and Rohit are three childhood friends who live in Arvind's society. Riya has been working as a law researcher for the past one year while Samrat was hired as a writer for a lifestyle magazine right after he completed his graduation. Rohit, on the other hand, decided to intern at a marketing firm for six months before applying for an MBA degree. While relaxing in the park, an argument broke out about whether they should go for a trip or not, and as is in the case of most first jobbers, money was the main concern. But lucky for them, they saw Arvind jog past them, who by now had a reputation as the financial expert of the society.
"Arvind bhayya, please tell Rohit that credit cards are completely safe to use.", said Samrat.
"They kind of are" suggested Arvind, "but that completely depends on the situation. What's the matter?"
"We've been planning this trip to Goa for almost six months now. We decided that when we are done with our commitments and have a week or two off, we'll take a break. Riya and Samrat have saved up for the trip, but I wasn't getting paid much at the internship, so I can't go with them. On top of that, I should also save for my MBA fees." answered Rohit.
"Yeah, but I'm telling you I can buy your tickets with my credit card.", said Samrat. "It's really not a problem. You pay me back whenever you can."
"Okay, I see the problem here.", said Arvind. "Well, depending on your situation, it could be both good or bad debt.
"Good and bad debts? What do you mean?"
"Loans themselves are not inherently good or bad. It's how we use them that determines if they help or harm us.
For instance, taking an education loan for Rohit's MBA is good debt as it will help him acquire skills and increase his chances of getting a better job. The best part is that you can start repaying the loan once you've secured a job.
On the other hand, credit cards come with very high interest rates. Funding a vacation on credit makes it more expensive if you only pay the minimum balance due each month. Credit cards are great for emergencies, but only if you pay the full balance every time.
But Rohit will only be able to repay you over a few months. This may strain your finances and friendship."
"I think I understand what you mean. A loan that helps in the long run in good, right?" said Riya.
"That's one way of looking at it." said Arvind "If you are ever confused, here are some questions you should ask yourself to know if a debt is good or bad:
Does it help you save money?
Take Riya, for example. She bought a scooty recently, which is a good investment because otherwise, she had to take cabs or two buses every day to her workplace. She will not just save a lot of time, effort, and money in the long run, but this will also help her be more efficient at work due to less exhaustion.
If there was a cheaper way to travel available, like a direct metro, borrowing money to buy this scooty could be a bad debt for her." Arvind explained.
Does it help you earn money?
If taking a debt, like Rohit's student loan, increases your income eventually, it is considered good. Similarly, a mortgage or home loan is considered good debt as a house would appreciate in value and help build equity. If you earn rent on it, it can more than pay for itself and even earn you some profit. You may also get tax benefits, making it a good investment.
Does it increase your net worth?
Loans, like home loan, student loan, and business loan, are considered good as they help you increase your net worth. We know that Samrat aims to start his own business one day. Now, if he takes a loan to establish or expand his business, it would be considered good debt as it will help him become financially more stable.
As opposed to this, impulsively borrowing money adds additional burden to your finances, and does not help you achieve any long-term goals. Ideally, we should save up and spend on things like vacations, luxury items, entertainment, etc.
Rohit, why don't you build a holiday fund? You still have a few months left, so start saving up for it. This way you can afford the trip without having to borrow, or at least borrowing too much.", Arvind suggested.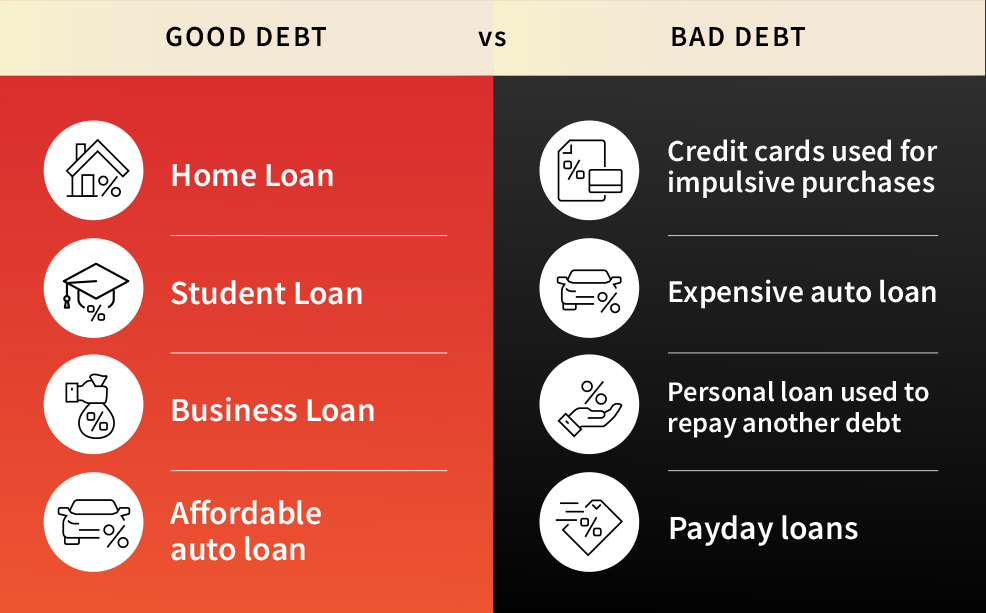 "And anyway, we still have three months to plan for the trip. We can go to a less expensive destination instead!" Riya said.
"The sooner you start managing your money wisely; the lesser are your chances of getting into a debt trap. Loans should help you achieve your goals without becoming a cause of financial stress." With this, Arvind left the three to plan their trip with a new perspective.
Go to Have too many borrowings? This quiz will tell you if you are in the Red. to see if you can differentiate between good and bad debts.
Related Topics
|