Talk to the loan company for help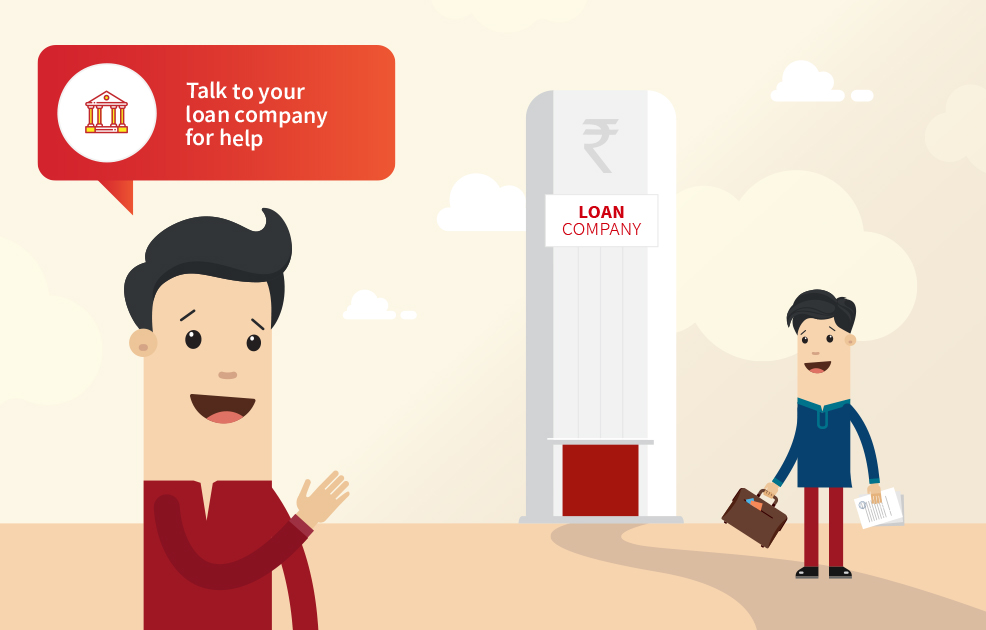 We met Ravi, who was struggling to pay off his debts with increased expenses after his mother was diagnosed with cancer. Arvind suggested him a 5-mantra plan, following which Ravi was able to pay off a few of his loans. He used some of his savings to add to the leftover amount to clear off his credit card dues too. Let's see how the last part of this plan went.
Also, read Mantra 3 – Choose a systematic method to pay your debt to know Ravi's repayment plan.
As was the ritual, Arvind and Ravi met for a few sets of badminton. Ravi seemed less stressed about his debt and told Arvind how he felt more confident about dealing with it but was still worried about his two biggest loans – auto and personal loans. He was also worried about his credit card balance not going down fast enough too.
Just then, Ravi got a call, which he was quick to dismiss. "My lender won't stop calling me. I know I missed a few instalments on the personal loan, but it's not like I don't intend to pay when I can."
"But why are you ignoring their calls? Koi bhoot thodi na hai. Problems are not solved by running away from them. In fact, if you still need help repaying the loans, you should talk to your loan company for help.", Arvind said.
"But all they do is ask for money and pay it urgently. How can they help me?" Ravi asked.
"They can be pestering at times, but they aren't demons. They want you to get out of debt as much as you do. They just fear the risk of losing money and their default rates going up.
If you talk to them, they can help you. For example, ask them for a loan holiday. Since you need some time to get your expenses back on track, you can ask for a moratorium/suspension of installment payments for three to six months.", Arvind said.
"I never thought that was an option. It would be really helpful if my lender agrees for this.", Ravi was surprised.
"Of course, this is one of the many options. They may charge a small fee for it though.
And meanwhile, you can free your credit limit by asking your lender to allow easy instalments of the credit card balance.
There is another option. Ask your lender to restructure your loans so that you can pay smaller instalments. This will increase the tenure, but you will have more income at your disposal to pay credit card bills and create an emergency fund.
"I never thought lenders could help me in so many ways. I will fix a meeting with them this week." said Ravi.
"Here are many more ways your lender can help. However, not all of them may work for you. You can choose the best options based on your needs and priorities.
You have multiple credit cards. Ask for a balance transfer on the card with the lowest interest rate. Some credit cards also offer 0% interest for a short period.
Consider consolidating your existing loans under one loan or take a mortgage loan to pay off all other loans. You'll only have to pay one instalment as opposed to multiple instalments each month. You can also get lower interest rates and an affordable instalment size for a suitable tenure.
Finally, if you think your current financial state demands so, request your lender for debt settlement for the remaining balance of the loan. Depending on the outstanding amount, the lender will check your current financial situation and monetary behavior in the past to decide if debt settlement is the only option left for you.
A word of caution - settlements in partial payments lower your credit score significantly. As soon as you gather additional funds, make sure you pay the outstanding amount in full and close the loan.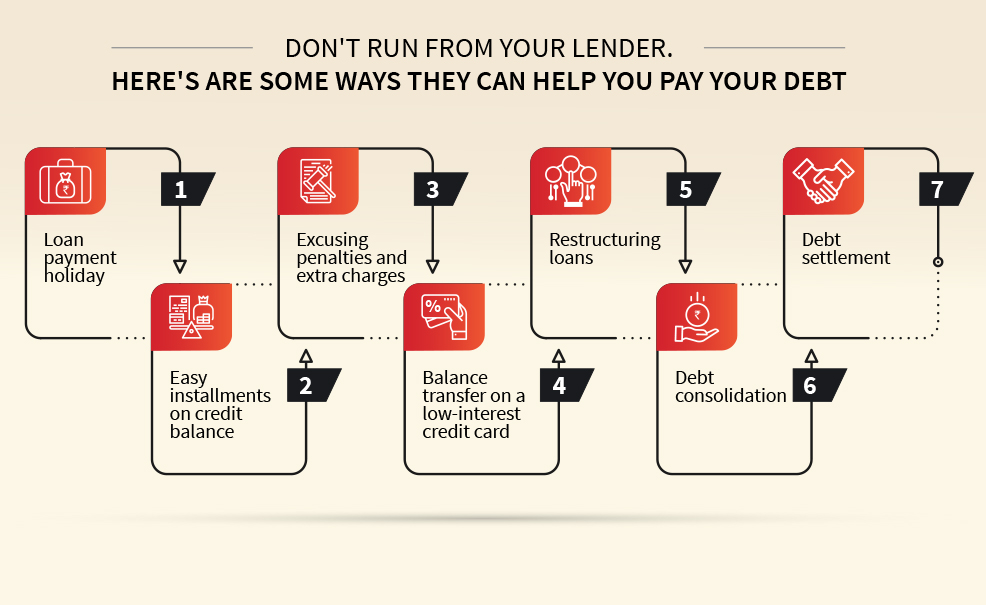 "I always used to look at lenders as demons, only chasing me for money. But if they can help me out of my situation, I can be friends with them," Ravi said with a hint of a smile.
"If you have a genuine problem, lenders will do everything they can to make the repayment process easier.", Arvind responded.
Thus, they finished the last part of the 5-mantra plan. Like Ravi, anyone can find a suitable way to get out of debt. The key is to be patient and disciplined during the repayment process. If you manage your money well, you will never fall into a debt trap.
Read Mantra 4 – Look for existing sources of money to clear your debt to know where Ravi found the money to pay off some of his debt.
Related Topics
|