Mantra 4 - Dig into your long-term savings to secure your today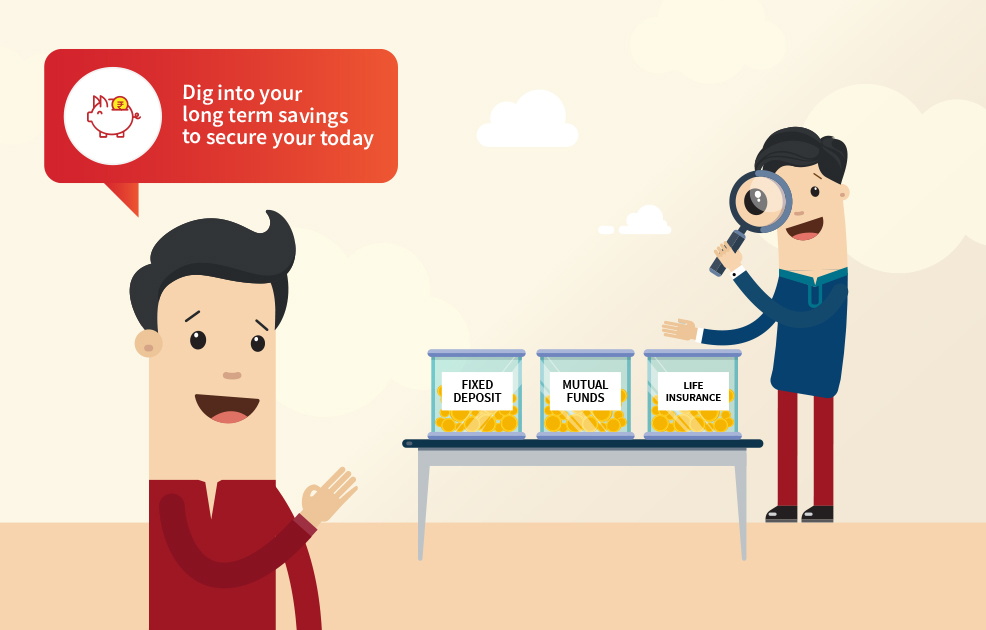 Arvind and Ravi have covered more than half of their 5-mantra plan for debt repayment. Previously, they made a budget and chose a repayment plan for Ravi after looking at ways to expand his income.
Read Mantra 3 – Choose a systematic method to pay your debt to know about repayment methods.
Let's see what happened next.
When Ravi finally showed up, from the look on his face, Arvind could tell something wasn't right. On asking, he found out that Ravi's mother's condition wasn't improving, and he was worried because the doctor told him that his mother needs to get some tests done.
"I have started freelancing as a coder, but the work is irregular. I'm just worried if I don't get much work, I'll end up draining my credit cards again. God forbid, but if we need to admit her in the hospital again for weeks like the last time, I won't be able to pay for the expenses. Feels like I'll never be able to repay all this debt.", said Ravi, worried.
"Don't worry, Ravi. You are doing everything you can, but debt isn't something that disappears overnight. You must be extremely patient and consistent with repayments.
It's time to get to Mantra - 4. You must reach deeper into your pockets now. Tell me, do you have any savings?", asked Arvind.
"Well… I have around 1.5 lakh in a fixed deposit, three SIP mutual fund investments - two are fully paid, but I have only paid six EMIs on the third one.", said Ravi.
"You should use the money in this fixed deposit for repayment and treatment.", suggest Arvind. "You can withdraw money from your mutual fund investment as well. It will incur some penalties, but it'll be less than the interest cost on your loans."
"But doesn't everybody say that you shouldn't touch your savings?", Ravi was confused.
"Yes, but sometimes it's smarter to do that. See, you get about 6.5% interest on your FD, right? But how much interest are you paying on your auto and personal loans? Around 10-15%, right? And don't forget the late payment charges and the continuous collection calls.
If the interest earned on savings is less than the interest paid on loans, as in your case, it is wiser to use the savings to ease your debt burden.", Arvind explained.
"But then I won't be left with any savings! What about future goals and if Maa has a health emergency?" Ravi asked with concern.
"Your present needs your savings more. You don't have to use all of it. Keep a portion for the future. You can withdraw a portion of your provident fund if needed. This way you will save some interest cost too. Do you have any other savings or investments? Maybe insurance?" Arvind asked.
"I have life insurance. But there is a long time before it matures", replied Ravi.
"You can get a low-interest loan against life insurance. But remember not to miss any payments. You won't just lose the insurance but may also have to pay late-payment charges. If you still fall short of cash, you can also ask your family members for help, like your brother in New Zealand. But make sure you don't put undue pressure on them.
Treat it like any other loan and pay them back on time. Otherwise, you risk spoiling your relationship. Or you can even ask him to pay for your mother's treatment for the next six months in which you can get your finances back on track. Then for the next six months, you can pay for her treatment", Arvind suggested Ravi.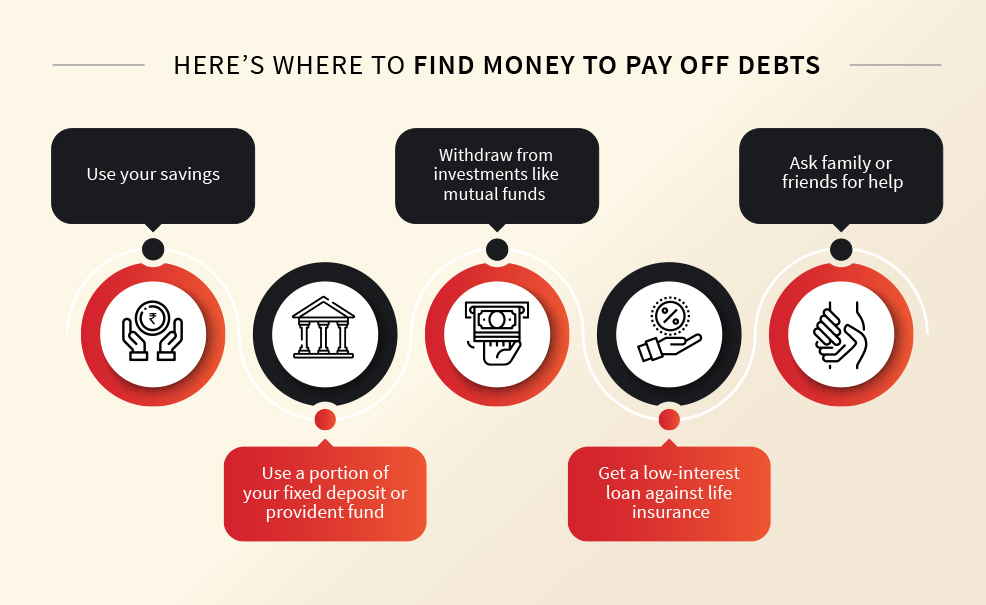 Ravi felt more optimistic after the discussion and told Arvind that he would use a part of his savings to make a larger payment on his personal loan. With this, they parted and decided to meet soon to discuss the final phase of their 5-mantra plan.
Remember, we cannot secure our future if our present is at risk. Savings are meant to come to use during emergencies. You can always work towards your future again once you are financially stable.
To know what happened next, read Mantra 5 – Talk to your loan company for help.
Related Topics
|