Mantra 2 - Find ways to make extra money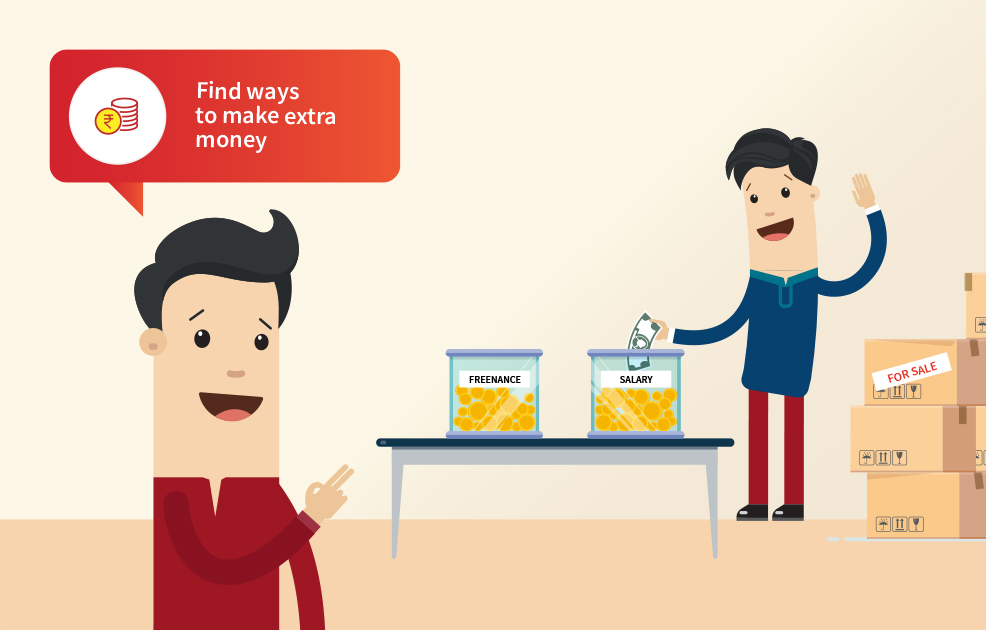 Arvind was helping his friend, Ravi, to map a plan to get out of debt. Previously they identified Ravi's weak areas and created a budget for him. Read Mantra 1 – Find money in your expenses to learn about the process.
Arvind decided to check on Ravi's progress and discuss the second mantra. Ravi was cleaning his motorcycle when Arvind arrived. Ravi put down the cleaning cloth and stood up to meet Arvind.
"I was waiting for you. I've created a budget and plan on sticking to it", Ravi told him. "The problem is that while it will help me control my expenses, what am I going to do about all the loans I have right now? I'm still not saving enough to catch up with the payments."
Arvind listened to Ravi patiently. "Chill, we'll get to that as well. While budgeting will keep you from spending on unnecessary things and find extra money to regularise EMI payments, the second mantra will help you catch up on overdue payments and maybe even close some loans. It's about finding ways to make extra money.
Have you ever considered selling things you don't need or use? It is one of the easiest ways of making some extra cash."
"Sell things?" said Ravi a little surprised. "What do I really own that I can sell?"
Arvind looked at the motorcycle parked right next to the car. "What about this bike? I haven't seen you ride it in the last six months or so. Plus, you have a car now."
Ravi was taken aback by the idea of having to sell his bike. "Isn't this a little extreme, yaar? It's still in good condition, and there are so many memories attached to it."
"Yes, but isn't getting out of debt a more urgent need? You can use that money to end the kiranawala's chik chik. At least, locality mein toh tu sar utha ke chal sakega. You can use the rest of it to pay the outstanding amount of one of the credit cards and free its limit so that it can be used in emergencies.
And your expensive DSLR? Do you even remember where you've kept it?"
"Yaar, not the camera at least. It's not like I have another one at home", said Ravi softly.
"Yeah, but when was the last time you actually used it? Two years ago? You do most of your photography on your iPhone now.
Ravi, there are so many things in our homes that we have no use for.
Another thing I can think of is your personal laptop which you haven't used in months. You got a high-speed laptop from your office. Why not sell the other then? It will be too old to use in another couple of years anyway." Arvind could see the idea dawning on Ravi.
Arvind noticed Ravi looking at his motorcycle longingly. "Don't worry. Things will come and go. Right now, your priority should be paying off your loans and getting out of the debt trap." Arvind took a pause before continuing, "Alright, there are other ways of increasing your income as well.
Your brother has moved to New Zealand, right? Why don't you put the empty floor on rent? This is a good location and aunty will have some company when you are not around."
Ravi seemed reluctant, "But none of my friends are planning to shift any time soon. And anyway, I don't want the headache of dealing with tenants right now."
Arvind reprimanded him, "You don't want tenants, but you are okay with debt? Anyway, here are some more options.
Ask for a raise: It is March already, which is appraisal time. You can maybe request your employer to increase your salary.

Encash leaves at work: If your company cashes unused leaves, collect that amount.

Work part-time or freelance whenever possible: You were the star of Java coding in college, right? Try freelancing as a coder or give coding classes.
There are other ways like making money from a hobby, tutoring neighborhood kids, earning money as cashback or coupons to buy things, but I think the ones I mentioned earlier should suffice for you." Arvind said.
Ravi looked happier after hearing out his options. "Waah, I didn't realise there are so many ways to get extra money from everyday things. Even if some of them work out, I'll find enough money to pay parts of my credit card dues."
"This is also known as the 'snowflaking method'. You must find every extra penny you can and put it towards debt repayment. This doesn't just reduce the debt burden but helps you accommodate more things in your budget. Yes, you have to work harder for some time till you pay off your debts, but the joy of being financially stable is totally worth it."
With this, Arvind moved out of the parking but not before deciding to meet again to discuss the third mantra.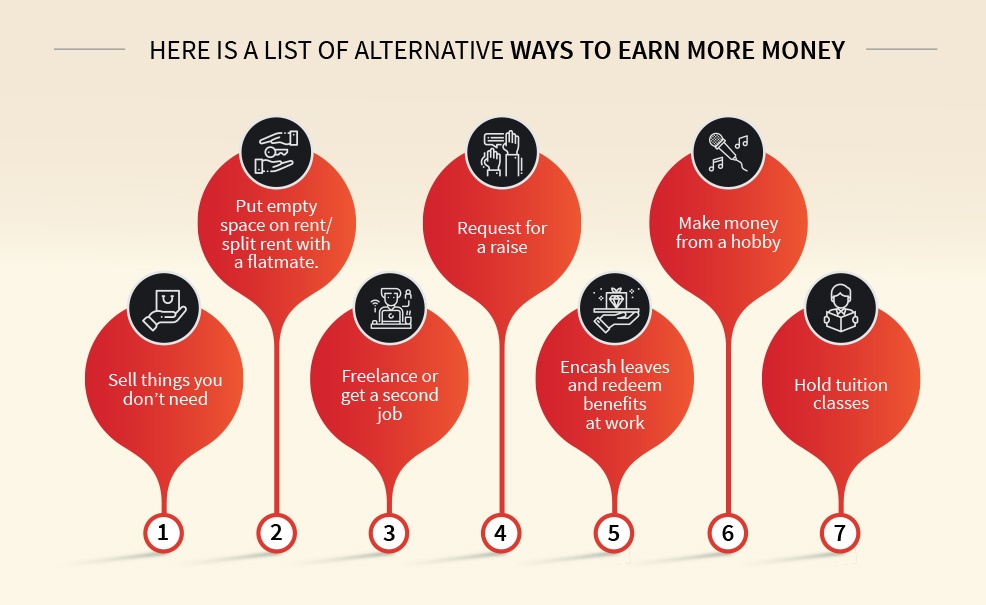 Read Mantra 3 – Choose a systematic method to pay your debt to know what they did next.
Related Topics
|