Choose a systematic method to pay your debt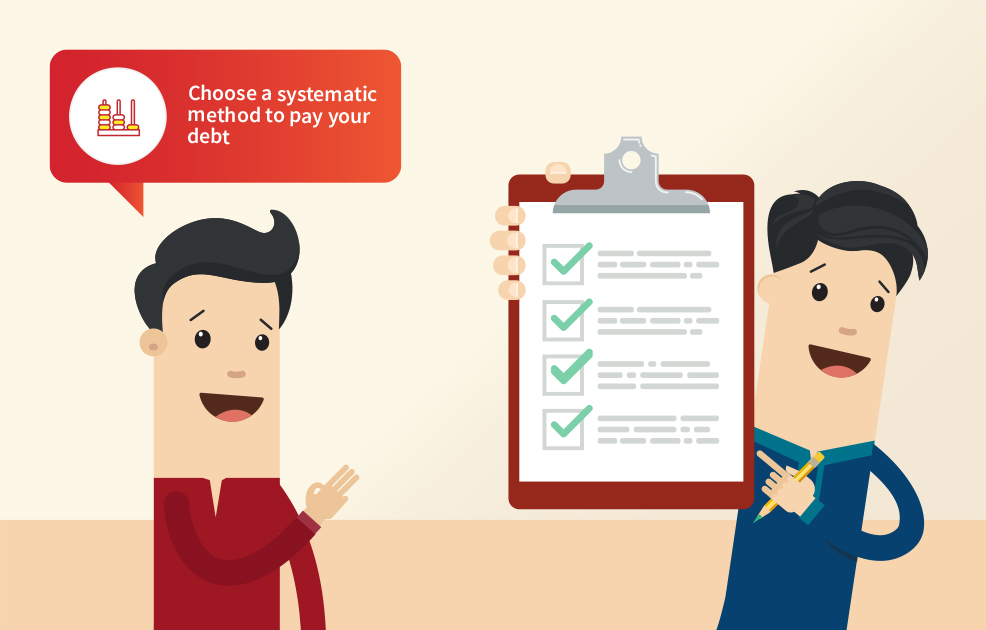 Arvind and Ravi are supposed to meet today to discuss the third phase of their 5-mantra plan. Ravi was asked to cut down his expenses, and they created a workable budget for him. They found things Ravi could sell and came up with ideas to earn some extra money as well.
Read Mantra 1 - Find money in your expenses and Mantra 2 - Find ways to make extra money to know what they did before this.
Arvind asked Ravi to meet him at his favourite coffee shop after work to discuss the next mantra. Ravi told Arvind that he managed to sell his camera to a friend and the old laptop to a college-going neighbour. Arvind was happy to hear that and suggested that he use this money towards debt repayment only.
"I never thought of how selling things I don't need can help me reduce my debt burden. I'm looking forward to meeting this buyer from OLX today who is interested in the bike. I'm hoping I'll get a good price for it!" exclaimed Ravi. "Finally, I've also convinced Maa to put the first floor on rent. A couple is coming to see it next week.
"Now that you have a budget and hope to earn from renting the first floor, it will help you make regular payments on all your loans, and the extra cash from selling things can help you clear the overdue payments.
Now, let's talk about how to clear your debts systematically.", Arvind said.
"I didn't know there are methods for repaying debt.", Ravi seemed confused. "I thought people just paid their monthly instalments and put the extras towards daily expenses or savings."
"Of course, there are," said Arvind. "Imagine you are going somewhere, but you don't know the way or have a map to follow. You'll get lost and probably never get there. Similarly, if you don't have a road map for your repayments, you'll feel lost and may never come out of the debt trap. That's why you should always have a clear approach in mind.
For now, after looking at your debts, I recommend you start with your smallest loan. Why don't you clear your dues with the kiranawala first? You have to visit his shop every day to get groceries. You won't have to feel embarrassed anymore, and having one less debt will make you feel better.
After that, you must clear your credit card bills. The interest rates on the cards are very high, and if you only pay the minimum dues every month, you'll keep collecting interest on the outstanding amount. Did you know the annual interest rates on credit cards can turn out to be around 40%?[1] So, make larger payments on this every month and don't use your card unless it's for an emergency.
All this while you should be paying your smartphone and car EMI regularly, but once you've cleared your credit card debt, try closing the smartphone loan. It's not a very big amount so you would be able to close this loan soon.
Now that you've cleared all the small loans, you can shift your focus to the personal loan you had taken for your mother's treatment. Clear the overdue amount and move this out of default , post which now try to save for unforeseen circumstances. This will help you avoid borrowing in an emergency.", Arvind explained.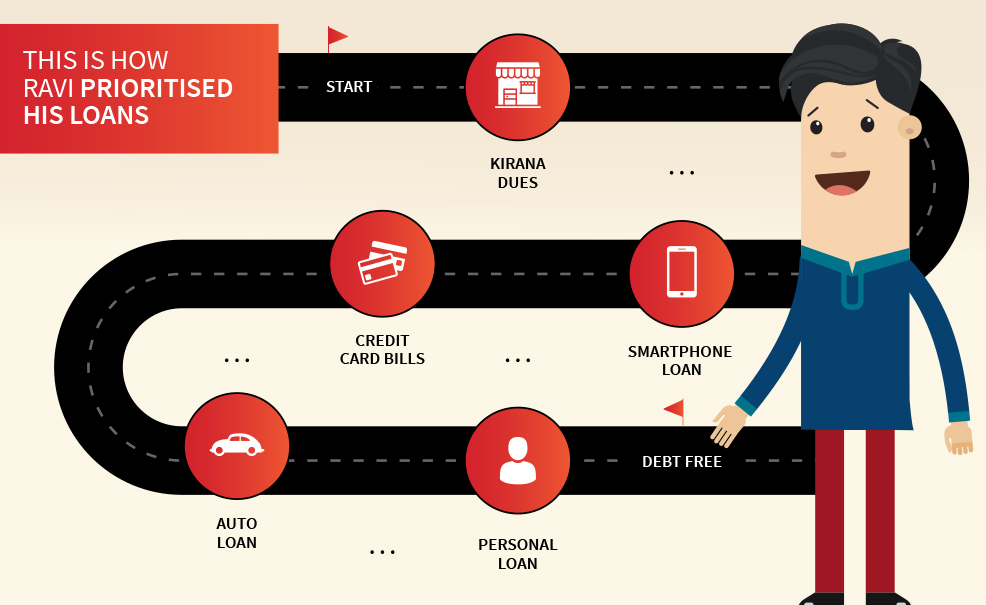 "Arvind, this makes so much sense. All this while I was just paying randomly to whoever asked for it more often. Thanks, yaar."
"You know, Ravi. This is called the Snowball method – you start small and grow slowly. You clear the smallest loans first and go about the rest in increasing order of due balance. The best thing about this method is that it keeps you motivated as you can see the results pretty soon. By the way, there's another method where you start with the loan that charges the highest interest and slowly work your way down. It's called the Avalanche method, but that works best for people with a lot of high-interest loans.", Arvind said.
Ravi was glad he talked to Arvind and did not have to work his way through debts without a plan. He understood why systematic repayment matters and could see the light at the end of his debt tunnel. "It totally makes sense now. Feels like this method was designed just for me."
Then the two finished their coffee and headed home.
Read Mantra 4 - Dig into your long term savings to secure your today to know where Ravi found money to deal with his expensive borrowings.
1. https://www.livemint.com/money/personal-finance/what-is-minimum-amount-due-on-credit-cards-1551619428699.html ↑
Related Topics
|