4 Most Common Types of Dividend Policies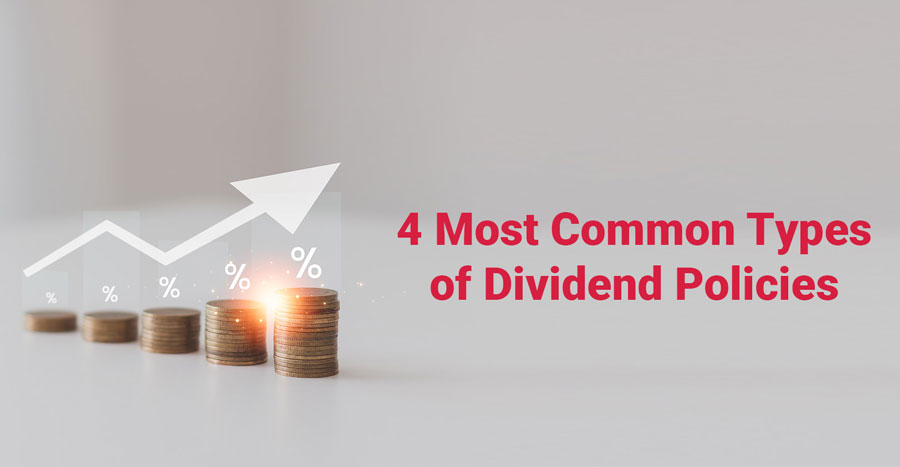 When investing in the stock market, one of the most attractive aspects for investors is the potential to receive dividends. A dividend is a portion of a company's profits that is distributed to its shareholders. However, not all companies follow the same approach when it comes to distributing dividends.
In this blog, we will explore the four most common types of dividend policies, explained in simple terms, to help you better understand how they work and how they can impact your investment decisions.
Stable Dividend Policy:
The stable dividend policy is a popular choice among conservative investors. Companies that adopt this policy aim to pay a fixed amount of dividends regularly, regardless of their earnings fluctuations. It provides shareholders with a sense of stability, knowing they can expect a predictable income stream. In times of high profits, the company may save the excess funds to use during periods of lower profitability to maintain the stable dividend rate.
Residual Dividend Policy:
The residual dividend policy takes a different approach. Instead of setting a predetermined dividend amount, companies following this policy distribute dividends only after fulfilling their financial obligations and investment requirements. In simpler terms, they pay dividends from what's left (residual) after covering all necessary expenses, reinvesting in the business, and maintaining an adequate cash reserve. This means that dividend payments can vary from year to year, depending on the company's financial performance and investment needs.
Constant Payout Ratio Dividend Policy:
This policy focuses on maintaining a consistent dividend payout relative to the company's earnings. In other words, the company determines a fixed percentage of its earnings that will be distributed as dividends, regardless of whether the earnings increase or decrease. This policy allows shareholders to share in the company's profits proportionately, which can be attractive during times of robust earnings growth. However, it also means that dividend amounts may fluctuate based on the company's profitability.
No Dividend Policy (Retention of Earnings):
Contrary to the previous three policies, some companies choose not to distribute dividends at all. Instead, they reinvest the earnings back into the business to finance expansion, research, or debt reduction. This approach is often adopted by young and growing companies seeking to capitalize on future opportunities. While not receiving dividends may disappoint some investors in the short term, if the company's reinvestment efforts lead to substantial growth, the value of their shares may increase significantly over time.
Conclusion:
Understanding the different dividend policies is essential for investors looking to make informed decisions in the stock market. The stable dividend policy provides stability, the residual dividend policy focuses on reinvestment, the constant payout ratio policy offers a proportionate sharing of profits, and the no dividend policy prioritizes growth through reinvestment.
Each policy comes with its own set of advantages and considerations, which investors should carefully evaluate based on their risk tolerance, financial goals, and market outlook. As always, it's wise to consult with a financial advisor to tailor your investment strategy to your specific needs and circumstances.
Related Topics
|