Common Mistakes to Avoid While Filing Income Tax Returns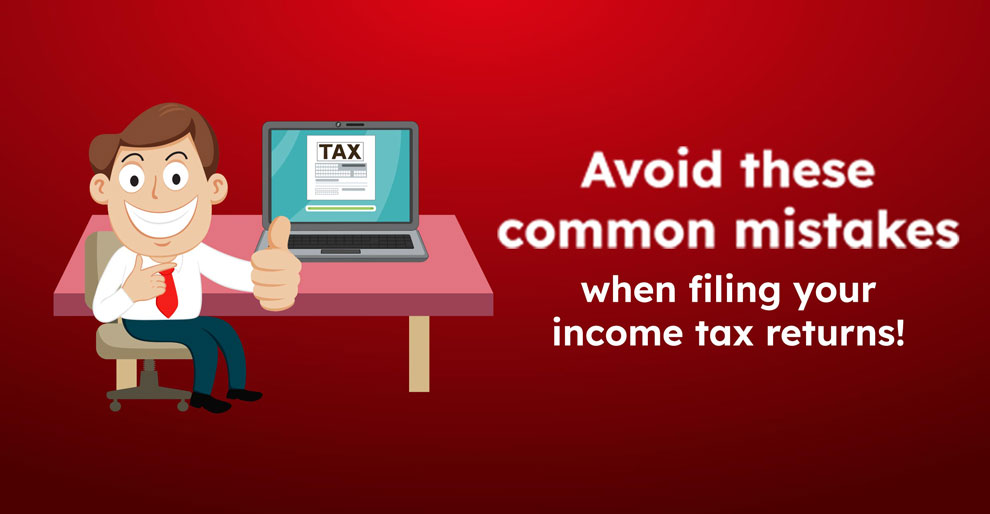 You're probably already aware of the need to file your income tax return (ITR) every financial year. But did you know that there are some common mistakes associated with filing ITRs? It's important to be aware of these mistakes so that you can avoid them and make sure your ITR filing is accurate and effective.
5 Mistakes to Avoid During ITR Filing
In this article, we'll take a look at some of the most common mistakes people make when filing their ITR. We'll also discuss how to go about rectifying any errors you might have made in the past to ensure that your future ITR filings are as error-free as possible. We hope this article will help you avoid making costly mistakes while filing your ITR and increase your chance of getting a bigger return on your income tax!
Missing the Deadline for ITR Filing
It's the story of every taxpayer's life—missing the deadline for filing your income tax return. While you may not like the complicated process, you need to make sure you don't miss the deadline by double-checking the dates and getting your return filed on time.
One of the most common mistakes happen when you wait till the last minute to get your ITR filed. This can lead to mistakes, such as forgetting to file certain documents or not providing complete bank details in order for deductions to be claimed or tax credits to be applied. All of this can result in a costly delay or even additional penalties if you don't file your return accurately and on time.
Having a clear plan for filing your taxes is key to avoiding costly mistakes in ITR filing. Set yourself calendar reminders, so you know when every deadline approaches. Mark down which forms need to be completed and what documents need to be included—then review them again prior to submitting them.
That way, even if life gets hectic, you won't miss any important steps or have any information left out of your return that could cause issues down the line.
Choosing the Wrong ITR Form
One of the most common mistakes made while filing income tax returns is choosing the wrong ITR form. In India, there are seven different forms depending on your source of income and other factors.
If you choose the wrong form, all the information that you enter while filing won't be accepted, and your return will be rejected. So, it's important to select the right ITR form for a hassle-free experience.
Here are some tips to help you pick the right ITR form:
Income from salary: ITR 1 or ITR 2
Income from house property (or rental income): ITR 2 or ITR 3
Income from business or profession: ITR 4
Capital gains (from sale of assets like stocks and properties): ITR2 or 3 for short-term capital gains, and ITR 2 or 4S for long-term capital gains
Income from other sources: ITR 4S, 5, 6, or 7
Not Declaring All Sources of Income
When it comes to filing your income tax return, not declaring all sources of income is a common mistake that you should definitely try to avoid. This includes income from all sources, such as salary, business profits, investments, rentals, capital gains, etc. It's important to declare them accurately and truthfully as not doing the same can have serious consequences down the road.
Here are some of the things you should do when declaring all sources of income:
Make sure to declare all your assets like fixed deposits, mutual funds and insurance policies that you hold in foreign banks and countries;
Ensure proper documentation is submitted for any gifts or donations received;
Research the taxable nature of new kinds of investments;
Maintain a separate ledger for tracking sales and purchases if you are running a business;
Report any capital gains during the financial year on sales/transfer/redemption of assets or investment securities;
Remember to report bank interest and other cash flow from investments on which tax deductions are available.
By making sure that all your sources of income are declared correctly in your ITR filing process, you can avoid any interrogations from the tax authorities and have peace of mind knowing that everything went smoothly.
Incorrect Personal Information
When it comes to filing your income tax return, make sure that the personal information you provide is correct. A wrong name or date of birth can delay the processing of your return and even lead to the rejection of your return.
You'll need to include:
Your Permanent Account Number (PAN)
Your full name, as it appears on your PAN card
Your valid email address and phone number
Your date of birth (DOB)
The exact bank account details in which you want to receive a refund, if applicable.
Additionally, if you've recently changed your name due to marriage, adoption or any other circumstance, make sure that you're using the same name for your correspondence with the department. This includes other forms like Form 16A or 26AS (if any). Failing to do so may result in discrepancies in the name that can lead to delays.
Filing ITR with incorrect personal information can lead you into a flurry of complex problems like having more than one PAN card under different names and becoming ineligible for certain tax-related benefits. To avoid these situations, double-check all of your personal information that's listed on the form before you submit it.
Not Verifying All Details Before Income Tax Return Filing
Not verifying all details before filing Income Tax Returns is one of the most common mistakes made by taxpayers. It's important to review your information carefully to make sure everything is accurate and up to date.
Incomplete Information
Ensure that you have filled in all the necessary fields and information accurately. Incorrect information can result in delays in processing or rejection of your return. Also, verify that the deductions and exemptions are accurate; any mistakes here can lead to a bigger tax burden!
Not Updating Your Address
Tax returns are sent to your permanent address; if there has been a change in address since the previous year, it is important to update the same with your tax department.
Verifying all details before filing helps you to ensure accuracy, spot errors, and save time down the line when it comes to rectifying mistakes that could have been avoided. Make sure your personal information is accurate, including correct spelling of your name and contact details, PAN number, Aadhaar Card details, bank account numbers, etc., so there are no discrepancies while processing your returns.
Finally, it's recommended that you double-check all documents before submitting them to minimize errors and rejections.
Conclusion
In conclusion, filing an ITR should be taken with utmost seriousness. Thousands of taxpayers make mistakes while filing returns, often paying hefty fines and facing criminal charges. To avoid any further complications, it is important to follow the rules set forth by the government of India, complete your returns accurately and in a timely fashion, and keep the necessary documents on hand.
Be sure to double-check your returns before filing them to ensure that you don't make any common mistakes that can cost you time, money, and a lot of frustration. Following the simple steps listed in this article, you can make sure you file your returns without any trouble.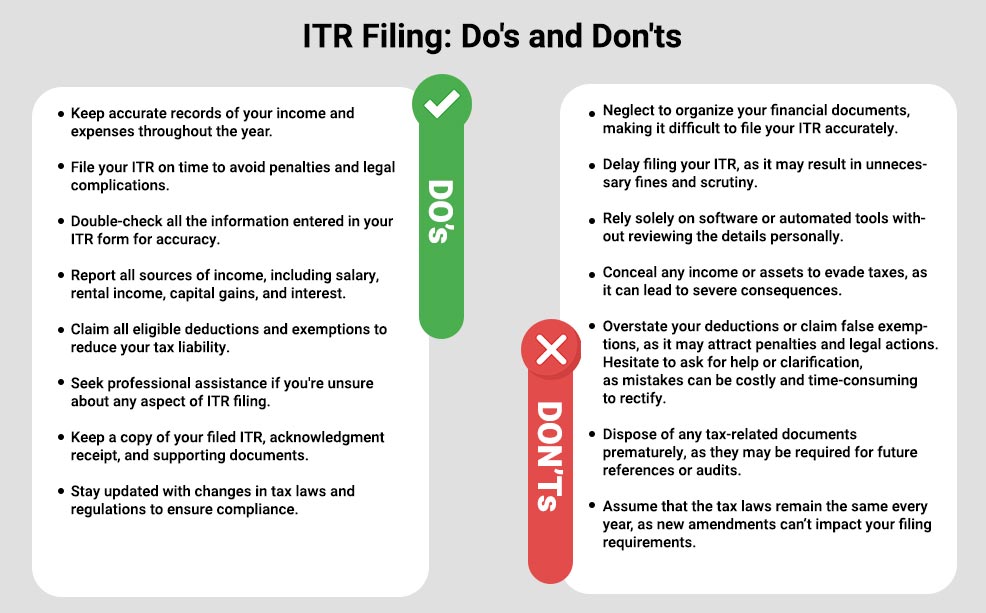 Related Topics
|