Why is it important to have an emergency fund, How can you build one!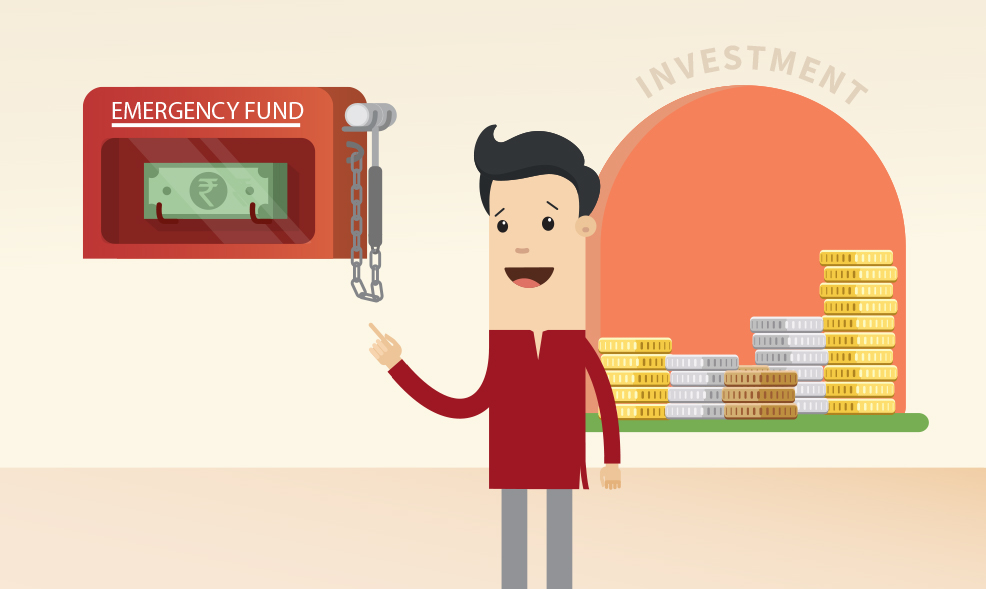 A financial plan is successful when you are able to deal with both planned and emergency expenditures. While you might have a saving plan for financial goals such as saving up for the down-payment of a house or a car, it's equally important to have an emergency fund so that you can manage during an emergency without dipping into your savings.
Why should you create an emergency fund?
Protects you against unforeseen circumstances and expenses– It's difficult to predict sudden expenses- whether it's due to repairs for your car after an accident or unexpected job loss or unplanned hospitalisation. In such an event, the sudden costs can be an added stress to you. In such a case, having an emergency fund means that you can tackle them without having to worry about money as you have your emergency fund to take care of such unexpected expenses.
Prevent your goals from getting side-tracked– When you face a sudden expense without an emergency fund, you might have to take money you had actually saved up for other goals, which means that it could take longer to achieve them. Having an emergency fund means that you don't have to compromise on your long-term goals in case of an unexpected expense.
Avoid interest costs from having to borrow during emergencies– In case you end up borrowing or taking a loan to meet your emergency expenses, you will also have to pay interest- apart from the stress of actually paying the amount back. Instead, an emergency fund is something you can control and access whenever you need to.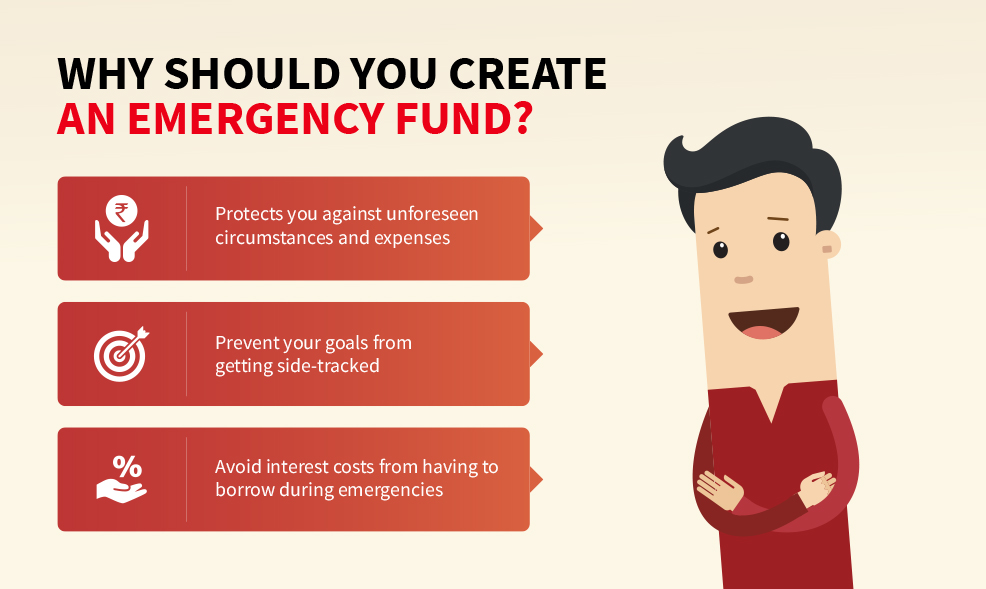 How should you build an emergency fund? 
The thumb rule when saving for an emergency fund is to have at least three to six months' worth of expenses put aside. When deciding how often you want to contribute and how much, it's important to consider your monthly expenses and lifestyle. Here are some ways you can start to save for an emergency fund:
This method is best if you are in your 40s or 50s and don't have an emergency fund. Start by calculating the minimum amount you need to save for an emergency fund and set a time by which you want to achieve this. Now, reduce all your expenses to the bare minimum and put away every extra rupee you have towards building this emergency fund.
For instance, if you are in your 40s, try to put aside a minimum of 20-30% of your salary towards your emergency fund. 50% of your monthly income, after-tax deductions, can meet essential living expenses like rent, utilities, and food. EMIs, debt repayments and investments can take up the remaining 20%.
Read How to figure out how much to save in an emergency fund to know more.
This is a more systematic approach to building an emergency fund and is advisable if you start saving up as soon as you start earning. You can put aside a small percentage of your income each month till you reach about 3-6 months' worth of expenses.
Since you're building this fund early, it's best to not let your funds lie idle in the bank. The best thing you could do is spread the money over your savings account, short term FDs and other short-term savings instruments such as liquid mutual funds. This way, you will have quick access to your cash and earn interest on it.
Read Whose saving method is the best? to learn about the pros and cons of some saving methods in a fun way.
If you are unable to save monthly due to an irregular income or other financial obligations, you can give yourself a slower start - instead of setting a monthly goal, you can get a bi-annual or annual goal to save up instead. While you will still have to monitor yourself frequently to ensure you reach your goal, this means that you can contribute to your emergency fund when you can.
If you receive a large amount of money (due to a bonus or income tax refund), you should put that towards your emergency fund. You can also put away any unexpected interest income you receive towards building this fund.
No matter which saving method you choose, remember to keep checking in your emergency fund from time to and restore it to the original amount in case you have taken away from it. This will ensure that you are financially prepared for any emergency.
Related Topics
|