5 Signs You Need to Revise your Money Goals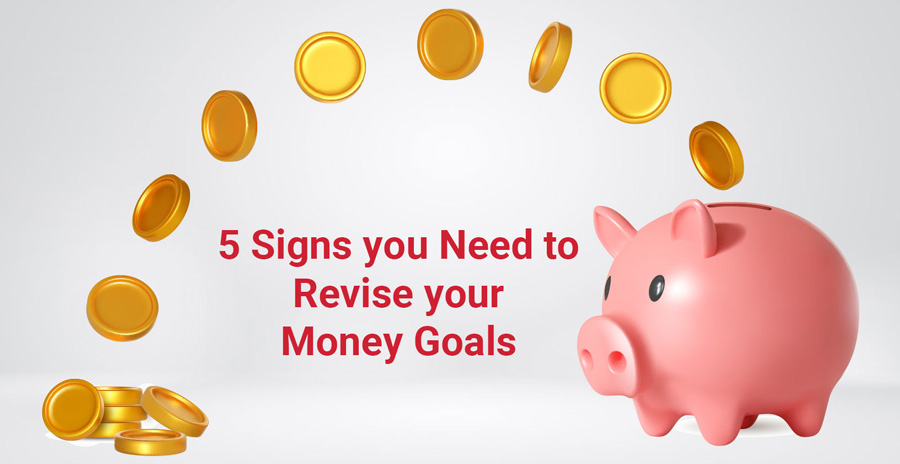 Money goals are like a roadmap for your financial journey. They help you navigate through life, ensuring you reach your desired destination of financial stability and security.
However, just like a real road trip, sometimes you need to make adjustments along the way. In this blog, we'll discuss five signs that indicate it might be time to revise your money goals to better align with your current financial situation and aspirations.
Your Income or Expenses Have Changed Significantly:
Life is full of surprises, and your financial situation can change unexpectedly. Whether you've experienced a significant increase or decrease in income or faced unexpected expenses, it's crucial to adjust your money goals accordingly. If your income has risen, you might want to set higher savings targets or explore new investment opportunities. On the flip side, if your expenses have increased, you may need to reassess your budget and spending habits to stay on track.
You're Not Making Progress:
One of the clearest signs that it's time to revise your money goals is if you're not making any significant progress toward achieving them. If you set a goal to save a certain amount by a specific date and find yourself consistently falling short, it's essential to reevaluate your goals. Consider breaking them down into smaller, more achievable milestones or extending the timeline to make them more realistic.
Your Priorities Have Changed:
As you journey through life, your priorities may change. What was once a top financial goal may no longer hold the same importance. For example, you may have initially prioritized saving for a down payment on a house, but now you're more focused on paying off high-interest debt or investing for retirement. It's okay to adjust your money goals to reflect your evolving priorities and values.
You've Achieved Your Initial Goals:
You've reached some of your initial money goals. While this is a significant achievement, it doesn't mean you should stop setting new ones. After reaching a milestone, it's essential to keep the momentum going by setting new financial objectives. These could include building an emergency fund, investing for retirement, or saving for a dream vacation. Continuously setting and revising goals keeps you motivated and ensures you're always working toward a brighter financial future.
Conclusion:
If you recognize any of these signs in your financial journey, don't hesitate to revise your money goals. Remember that it's not a sign of failure but a proactive step towards ensuring your financial well-being aligns with your current situation and future dreams. Regularly reviewing and adjusting your money goals will help you stay on the path to financial success while reducing stress and promoting a healthier relationship with your finances.
Related Topics
|