Long-term vs. Short-term Investments: Pros and Cons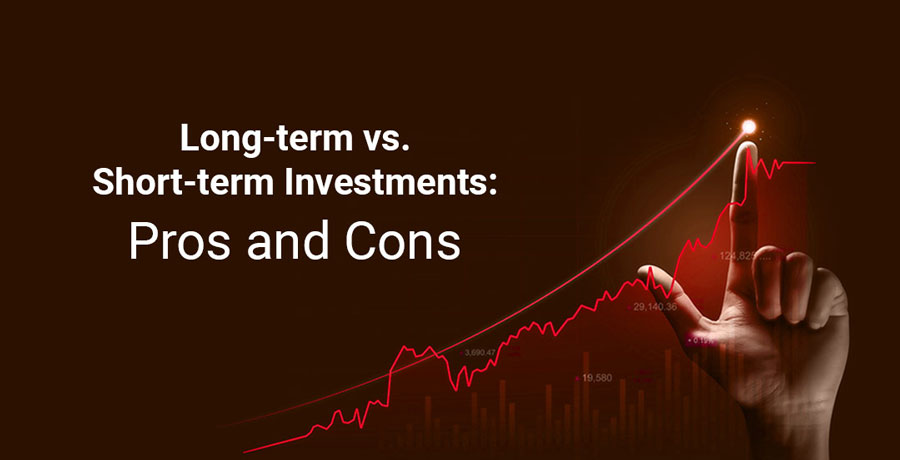 When it comes to investing your hard-earned money, it's important to have a clear strategy in mind. Two common approaches are long-term and short-term investments. Both have their merits and drawbacks, and in this blog, we will explore the pros and cons of each of these investment methods.
Long-term Investments:
Long-term investments involve committing money for an extended period, typically spanning several years or even decades. These investments include stocks, bonds, mutual funds, and real estate. Let's delve into their advantages and disadvantages:
Advantages:
1. Simplicity: Long-term investment strategies are relatively straightforward to understand and execute. You aim to buy assets that you believe will appreciate in value over time.
2. Compound Growth: By leaving your money invested over a longer period, you can benefit from the power of compound interest. Your savings generate more earnings, leading to potential significant gains over time.
3. Reduced Risk: Long-term investments tend to be less risky compared to short-term ones since they have more time to overcome market fluctuations and potential downturns.
Disadvantages:
1. Liquidity Constraints: Once you invest in long-term assets, it can be challenging to easily access your funds in case of emergencies or unexpected expenses.
2. Limited Flexibility: Long-term investments require a patient approach, and if circumstances change or you need cash urgently, you may miss out on potential opportunities for liquidity.
3. Uncertain Returns: While long-term investments can offer substantial returns, it's important to remember that they are not guaranteed. Market fluctuations or economic downturns can impact returns negatively.
Short-term Investments:
Short-term investments involve holding assets for a shorter duration, usually less than a year, with the intent of capitalizing on immediate gains. Common short-term investments include money market accounts, certificates of deposit (CDs), and short-term bonds. Now, let's discuss their pros and cons:
Advantages:
1. Liquidity: Short-term investments provide easy access to your funds when needed since they typically mature quickly or have shorter lock-in periods.
2. Flexibility: This strategy allows investors to quickly adjust their investment decisions based on changing market conditions or personal financial needs.
3. Potential Quick Returns: Short-term investments offer the possibility of making fast profits since they focus on immediate changes in asset values.
Disadvantages:
1. Limited Growth: Compared to long-term investments, short-term options may not provide the same level of significant wealth accumulation through compound growth.
2. Greater Effort Required: Constant monitoring, research, and active management may be needed to identify lucrative short-term investment opportunities.
Conclusion:
Choosing between long-term and short-term investment strategies requires careful consideration of one's financial goals, risk appetite, and time horizon. Long-term investments can provide steady growth over an extended period, but they require patience and dedication.
On the other hand, short-term investments offer greater liquidity and potential for quick returns, but they come with higher risks and require active management.
Remember, investment decisions should align with your personal circumstances and financial objectives. It's always wise to seek guidance from a financial advisor before making any investment decisions, as they can offer personalized advice based on your unique situation.
Related Topics
|