7 Ways to Teach Financial Literacy to Children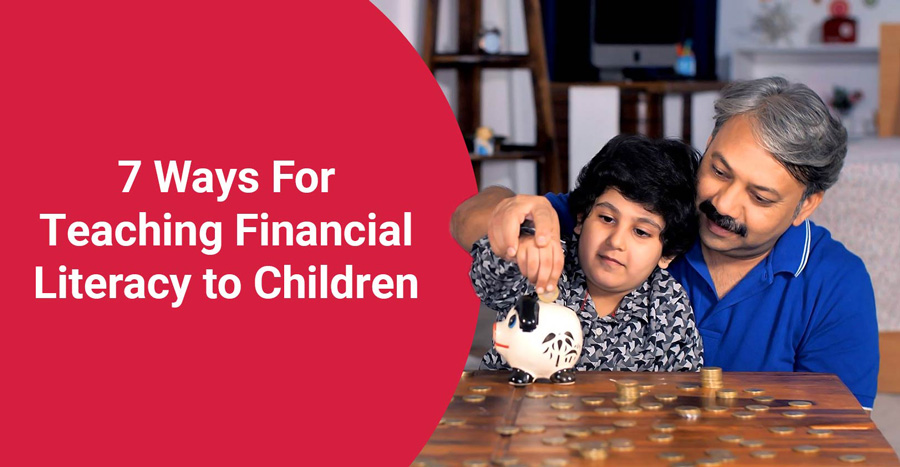 In a world where financial decisions play a crucial role in shaping our lives, imparting financial literacy to children has become more important than ever. Teaching children about money management from an early age can empower them to make informed financial decisions as they grow into adults.
By introducing them to the concepts of saving, budgeting, investing, and responsible spending, we equip them with essential life skills. In this blog post, we'll explore seven effective ways to teach financial literacy to children.
Start Early
The foundation for financial literacy should be laid early in a child's life. As soon as they start understanding basic math, you can begin discussing simple money concepts. Use everyday activities like grocery shopping or counting their pocket money to introduce them to the value of money and basic calculations.
Use Real-Life Examples
Children learn best through practical examples. Involve them in age-appropriate discussions about family finances, like planning a budget for a family vacation or comparing prices while shopping. Real-life scenarios help children understand the value of money and the importance of making wise financial choices.
Allowance and Budgeting
Providing children with a regular allowance can be an effective tool for teaching financial responsibility. Encourage them to allocate their allowance to different categories, such as saving, spending, and giving. This practice helps children grasp the concept of budgeting and prioritizing expenses.
Savings Goals
Teach children the importance of setting savings goals. Help them identify something they want to save for, whether it's a toy, a gadget, or a special outing. This experience instills the habit of delayed gratification and shows them that saving over time can lead to fulfilling their desired goals.
Introduce Basic Banking Concepts
Explain the basics of banking to your children, such as the difference between checking and savings accounts. Take them to the bank and let them experience depositing money and receiving a bank statement. This hands-on exposure demystifies banking and promotes financial confidence.
Smart Spending Choices
Teach children to differentiate between needs and wants. Show them how to research and compare prices before making a purchase. Encourage them to think critically about whether a particular expense aligns with their priorities and goals. This practice cultivates responsible spending habits.
Investing Basics
Introduce the concept of investing in simple terms. Explain how investing can make their money grow over time. While the intricacies of investing might be too complex for young children, you can use relatable examples like planting seeds that grow into trees bearing fruit. As they grow older, you can delve deeper into investment options.
Conclusion
Equipping children with financial literacy skills is an investment in their future well-being. By instilling an understanding of money, saving, budgeting, and wise spending early on, we empower them to navigate the complexities of the financial world with confidence.
Remember that teaching financial literacy is an ongoing process that evolves as children grow and their understanding deepens. By applying these seven strategies, we can help our children build a solid foundation for a financially secure and responsible future.
Related Topics
|