Tax Deductions vs. Exemptions – Differences & Examples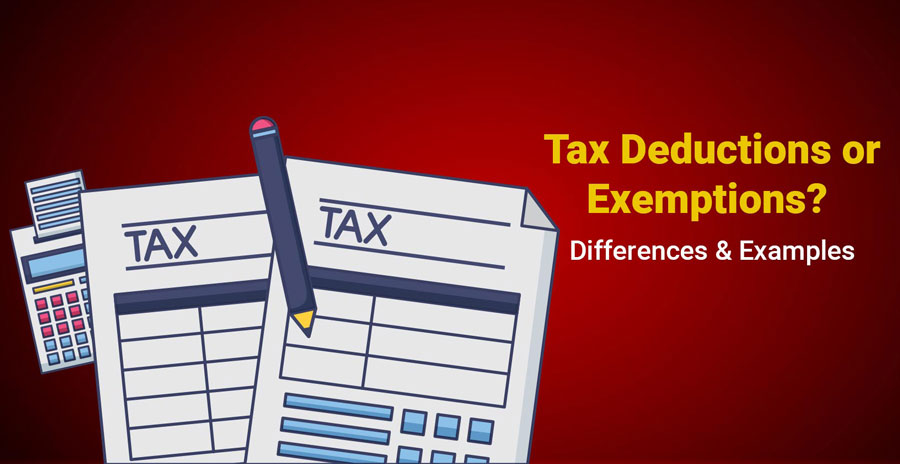 Understanding taxes can be a bit tricky, but it's crucial for managing your finances effectively. In India, tax deductions and exemptions are terms you often hear during tax season. While they both help reduce your taxable income, they work differently and have distinct purposes.
In this blog, we'll break down the differences between tax deductions and exemptions in India, with easy-to-understand examples.
Tax Deductions
Tax deductions are expenses or investments that reduce your taxable income, which in turn lowers the amount of income on which you have to pay tax. In simple terms, tax deductions help you save on the amount of income subject to taxation. Here are a few common tax deductions in India:
1. Section 80C Deductions: This is one of the most well-known deductions. Under Section 80C of the Income Tax Act, you can claim deductions for investments such as Employee Provident Fund (EPF), Public Provident Fund (PPF), National Savings Certificate (NSC), and life insurance premiums, among others. You can claim a deduction of up to ₹1.5 lakh per financial year under this section.
2. Home Loan Interest: If you have taken a home loan, the interest paid on the loan is deductible under Section 24(b) of the Income Tax Act. You can claim deductions of up to ₹2 lakh on the interest paid on your home loan.
3. Medical Insurance Premiums: Premiums paid for health insurance policies, including those for your family, are eligible for deductions under Section 80D. The deduction limits vary depending on the age of the insured individuals and the type of coverage.
Tax Exemptions
Tax exemptions, on the other hand, are specific types of income that are not subject to income tax. These are often provided to encourage certain activities or investments. Here are a couple of examples:
1. HRA (House Rent Allowance) Exemption: If you receive HRA as part of your salary, you can claim an exemption for it under Section 10(13A) of the Income Tax Act. The exemption is limited to the actual HRA received or the rent paid minus 10% of your salary, whichever is lower.
2. Agricultural Income: In India, agricultural income is exempt from income tax. If your primary source of income is agriculture, you do not have to pay tax on that income.
Differences Between Deductions & Exemptions
Deductions reduce your taxable income, while exemptions exclude certain types of income from taxation altogether.
Deductions are applicable to a wide range of expenses and investments, whereas exemptions are specific to certain types of income.
Deduction limits are predefined and vary depending on the specific section of the Income Tax Act, while exemptions may have different criteria and limitations. Deductions are often used to promote savings and investments, while exemptions encourage certain activities or provide relief in specific situations.
Conclusion
Understanding the distinction between tax deductions and tax exemptions is essential to optimize your tax planning. By leveraging these provisions effectively, you can reduce your tax liability and keep more of your hard-earned money.
Related Topics
|