How to figure out how much to save in an emergency fund!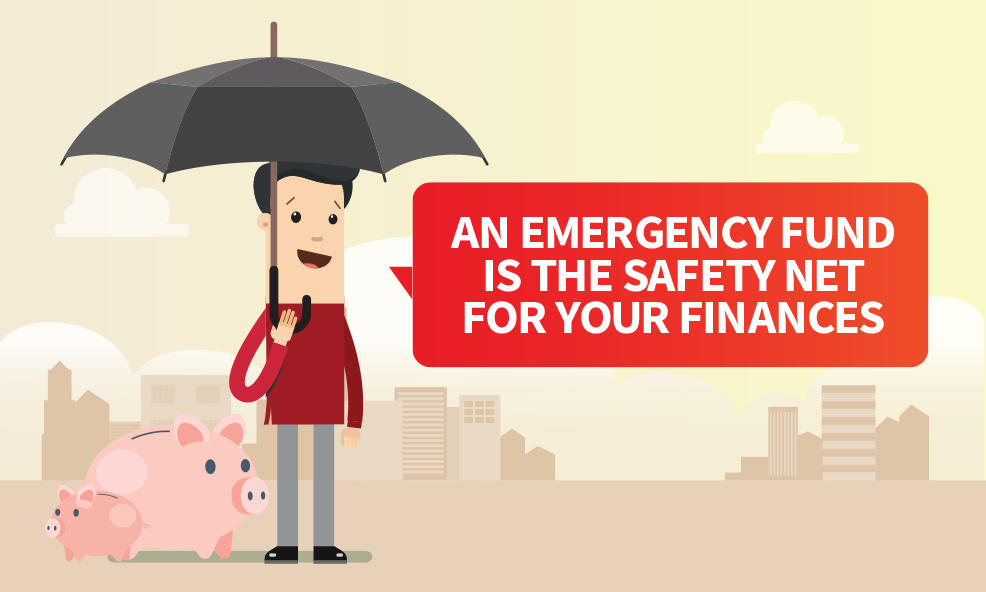 Emergency funds are essential to effectively manage financial emergencies in the short and long term. However, unlike other forms of savings, the amount you save under an emergency is not a flat amount- instead, it depends on your lifestyle and expenses.
The ideal amount to save in an emergency fund is 3-6 months' worth of expenses. However, this is not fixed; it also depends on a number of other factors, such as these:
The stability of your income
The stability of your income is one of the most important factors because the regular inflow of cash means that you will be prepared to handle emergencies better. On the other hand, if you have irregular or seasonal income, you might need to have a larger emergency fund so that you can be better prepared for emergency expenses during a low-income season.
But it's not just about how regular your income is- it's also important to look at what stage of work you are in and the industry you are working in to understand how stable your job is. Let's consider these case studies to understand more:
Case 1: Beginners
Emergency corpus of up to 4-5 months
Reeti is a web developer at a large MNC with a work experience of almost a year. Even though she earns a steady income, she worries that she might lose her job due to factors out of her control, such as a sudden spike in automation, an economic slowdown or even a global pandemic. She also fears that due to her lack of experience, there could be others who could easily take up her job. Therefore, she should have an emergency corpus of 4-5 months so that she can pay her day-to-day expenses in case she loses her job.
Case 2: Unstable Job
Emergency corpus of at least 6 months
Rishi is a freelance graphic designer with an experience of 3 years. His income entirely depends on the number of clients he works for. As a freelancer, he doesn't have the security of a regular income as his earnings solely depend on the number of clients he gets in a month. He should create an emergency fund for at least 6 months' worth of expenses so that he can sustain himself during the months when he doesn't get as many projects, or if he is not able to work due to any personal or medical reasons.
Case 3: Stable Jobs
Emergency corpus for 3 months
Zeeshan is a 45-year old IT professional who is planning to save for the down payment of a home. He also enjoys certain perks from his company such as company transportation, group health insurance and salary during the notice period if he is suddenly laid off. Even though he earns well and has good saving habits, he needs to have an emergency fund for 3 months' worth of expenses. This is because in case of a job loss, he not only loses his source of income but also the associated benefits, for which he will have to pay more going forward. Doing this can help him stay on track to save up money for his down payment as he will not have to dip into his savings in case of an emergency.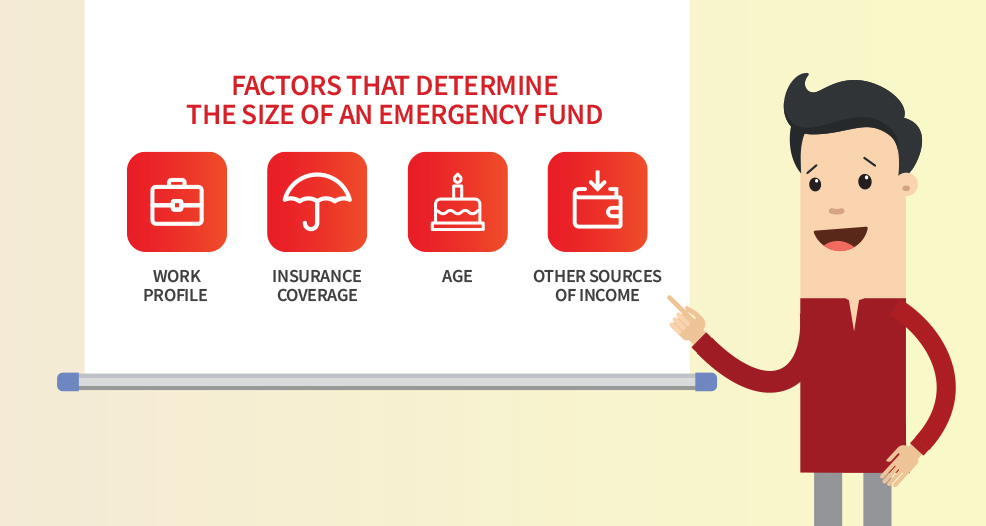 Your insurance coverage
Emergency expenses can take a large chunk of your savings if you don't have an insurance policy. The best thing you can do for your savings and health/property is to take insurance coverage as it will cover you for a large part of your expenses. It's also important that your dependents are covered under your health insurance so that you are financially secure in case of any medical emergency in the family. However, if you don't have one, you need to add to your emergency fund. Read more about how insurance can help you deal with emergencies.
Your Age
When you are young (in your 20s or 30s), you might face a lesser risk of facing a medical emergency as someone in their 50s. However, this means that you are also earning and saving less, which means that even the slightest deviation from your financial goal (whether it's due to a job loss or even a car accident) might mean that you will not be able to pay for it, unless you have an emergency fund to help with your expenses. In case you are married with kids, it is important to make sure that your emergency fund covers expenses for your dependents too- such as college fees.
Any additional sources of income you have
Having an additional source of income means that you will be better off financially in case of an emergency. If you have an additional source of income, such as house rent, income from dividend, or a hobby you've converted into a second job, you can reduce the amount you save up in your emergency fund. However, if the amount you receive changes every month (due to your renter moving away or a reduction in dividend), it's best to stick to the original 3-6 months' worth of expenses.
Now that you've figured out how much to save in your emergency fund, read on to find out where you should save it.
Related Topics
|